Naval Reserve Officers Training Corps
Franklin Building Annex
3451 Walnut St
Philadelphia, PA 19104
Phone: 215.898.7436
Fax: 215.573.2067   
Office Hours: 8am – 3pm, Monday through Friday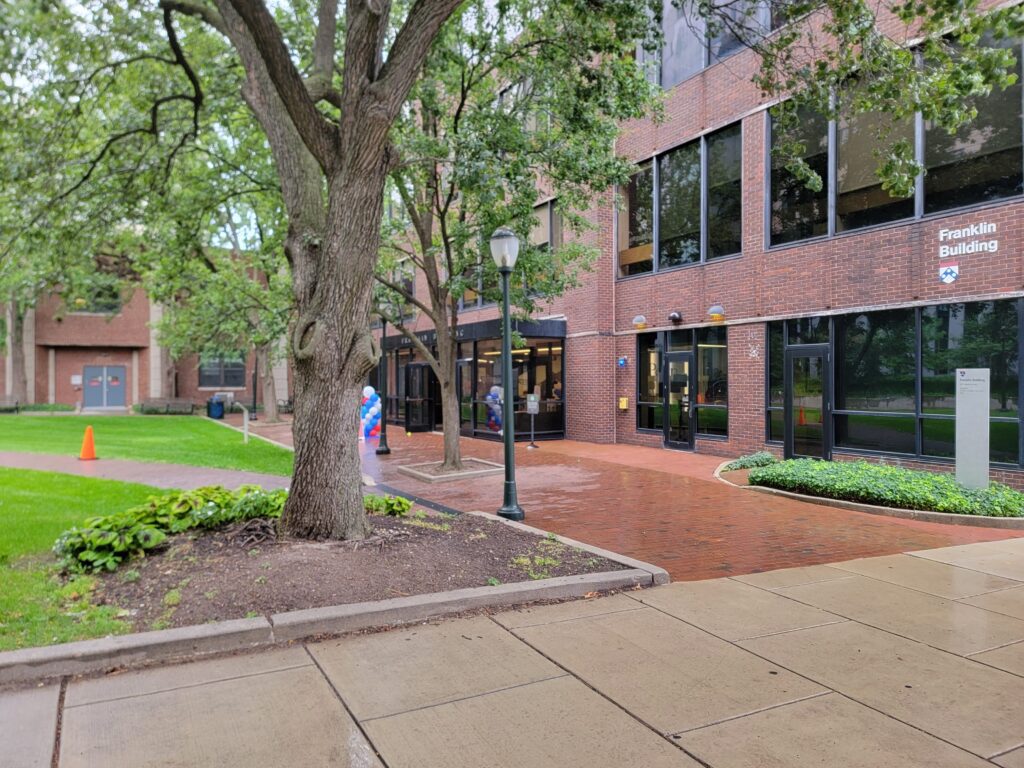 Colonel Vincent J. Ciuccoli
Commanding Officer, Philadelphia Consortium NROTC
Vincent John Ciuccoli, a native of Connecticut, reported to US Marine Corps Officer Candidates School in Quantico, Virginia for the 10-week Platoon Leaders Course in the summer of 1993. Upon graduating from Villanova University on 15 May 1994 he was commissioned a Second Lieutenant. After The Basic School he was sent to NAS Pensacola for flight training. On 19 December 1997 First Lieutenant Ciuccoli was designated a Naval Aviator and received orders to Marine Helicopter Training Squadron 204 at MCAS New River, North Carolina for initial training in the CH-46E Sea Knight. After being designated as a Helicopter Second Pilot, First Lieutenant Ciuccoli was assigned to Marine Medium Helicopter Squadron 166 (HMM-166) in El Toro, California in the Summer of 1998.
While with the Sea Elk, First Lieutenant Ciuccoli was promoted to Captain and served as the Team Embarkation Officer, Flightline Officer and Assistant Maintenance Officer while completing two Marine Expeditionary Unit (MEU) deployments between January 2000 and December 2002. Captain Ciuccoli reported for duty with Marine Helicopter Squadron One (HMX-1) in the Spring of 2003 where he worked in the CH-46E Operational Test and Evaluation department. After leaving HMX-1 in the summer of 2004, Captain Ciuccoli remained onboard Quantico and was frocked to the rank of Major for his assignment as a Company Commander at Officer Candidates School. In late 2004, Major Ciuccoli reported to MARFOREUR in Germany where he performed the duties of Operations Desk Officer for Eastern Europe and Africa until October of 2005 when he was called back to the operational forces with HMM-166 at MCAS Miramar, California.
During this tour with the Sea Elk, Major Ciuccoli deployed twice with the 11th MEU, once onboard the USS Peleliu from February to August 2006 as the Aviation Combat Element Logistics Officer and a second time onboard the USS Tarawa from November 2007 to June 2008 as the Maintenance Officer. Major Ciuccoli was then selected for intermediate level school at the US Army Command and General Staff College, Ft Leavenworth, Kansas where he graduated with a Masters Degree in Military Arts and Sciences in June of 2009. Major Ciuccoli was then assigned to Supreme Headquarters Allied Powers Europe in Mons, Belgium where he was promoted to Lieutenant Colonel 1 September 2010. While serving in the joint multi-national arena, Lieutenant Colonel Ciuccoli acted as the lead operations desk officer for Iraq and the Deputy Team Leader for the NATO's Operation UNIFIED PROTECTOR in Libya.
Upon returning to CONUS in July of 2012, Lieutenant Colonel Ciuccoli assumed the role of MAG-39 Executive Officer until May 2013. He was then slated as the Commanding Officer of MCAF Quantico from June 2013 to June 2015 and subsequently studied at Israel's National Defense College where he was also selected for Colonel in January 2016. Upon returning for duty at 3d MAW, MCAS Miramar Colonel Ciuccoli was assigned as the Executive Officer for the Special Purpose–MAGTF–Crisis Response–CENTCOM from August 2016 to Aug 2017 and deployed in support of Operation INHERENT RESOLVE. Colonel Ciuccoli served most recently as the Commanding Officer of Headquarters and Support Battalion, Marine Corps Installations Pacific, Marine Corps Base Camp Smedley D. Butler.
He has accumulated over 2400 flight hours and his personal decorations include two Meritorious Service Medals, the Defense Meritorious Service Medal, three Navy Commendation Medals and the Navy Achievement Medal.
The Naval Reserve Officers' Training Corps Unit at the University of Pennsylvania is Commanded by an active duty Marine Corps Colonel, with a Navy Commander serving as the Executive Officer. The Remainder of the Staff consists of Active Duty Navy and Marine Corps Officers and a Senior Enlisted Marine.
Commanding Officer: Colonel Ciuccoli
Executive Officer: Commander Konowal
Marine Officer Instructor (MOI): Captain Torres
Assistant Marine Officer Instructor(AMOI): Gunnery Sergeant Martinez
Senior Advisor: Lieutenant Thompson-Sevcik
Junior Advisor: Lieutenant Thompson-Sevcik
Sophomore Advisor: Lieutenant Miller

Freshman Advisor: Lieutenant Miller
The University of Pennsylvania and the United States Navy and Marine Corps share a long and distinguished history that dates back to the Revolutionary War. The University of Pennsylvania has taught many famous military leaders including Major Samuel Nicholas, the first Commandant of the Marine Corps; Benjamin Stoddert, the first Secretary of the Navy; Secretary of the Navy Adolph E. Borie; and many others. The military graduates of the University of Pennsylvania have helped shape the course of the United States Navy and Marine Corps – and history as a whole.
Despite producing many of the military's greatest minds throughout its history, it was not until 1916 that the University began to offer courses specific to a career in the armed forces. On 1 August 1940, University President Thomas S. Gates petitioned the Department of the Navy for a dedicated Naval ROTC Unit to be established at the University. Gates had a personal interest in the Navy as his son Thomas S. Gates, Jr., a graduate of Penn, served as a Naval Officer in WWII and later became Secretary of the Navy and Secretary of Defense under President Eisenhower. On 11 September 1940, Secretary of the Navy James Forrestal approved Gates' petition and created an NROTC unit at the University of Pennsylvania. The first class consisted of sixteen midshipmen and by 1942, only 2 years after its inception, the unit had more than 200 members.
Anticipating a long WWII, The Department of the Navy established a V-12 program at Penn on 1 July 1943. The V-12 program created an influx of junior officers by providing medical and dental courses, academic refreshers, and flight preparatory programs. Candidates in these programs worked year-round and studied alongside NROTC midshipmen, but were ranked as apprentice seamen or held their rank from the fleet. All unit students were housed in Houston Hall and ate at the famed basketball complex, The Palestra. The first class enrolled in the V-12 program numbered 600 strong and soon grew to 900 before the program was halted at the end of the war.
After the war, The NROTC unit continued its mission. In July of 1968, the unit moved to its permanent home, the Hollenback Center. Although the total number of midshipmen decreased because of military downsizing, students entering the program became more diverse, traveling from Drexel, Temple, La Salle, St. Joseph's, Rutgers, Swarthmore, Bryn Mawr, and Spring Garden to participate in the program. In 1995, the number of colleges was reduced to three universities: Penn, Temple, and Drexel. The unit continues to mold students from these universities into Navy and Marine Corps officers today. The Penn NROTC program is part of the Philadelphia Consortium and shares its commanding officer and many formal events with Villanova University.
The Penn NROTC unit has been commanded by 30 commanding officers and has commissioned over 1,539 ensigns and second lieutenants. More than 15 graduates have attained the rank of general or flag officer as well as one astronaut. The unit is sponsored by three fleet commands: USS Laboon (DDG-58), USS Philadelphia (SSN-690), and the VFA-87 "Golden Warriors."
The Penn NROTC Color Guard consits of the American, Marine Corps, and Navy flags along with two rifle bearers. This traditional formation adds dignity to any military-related activity, parade, or civic event by showing respect to our Nation and those who have served. To request our color guard for your event, please fill out the form below at least three weeks in advance of your event.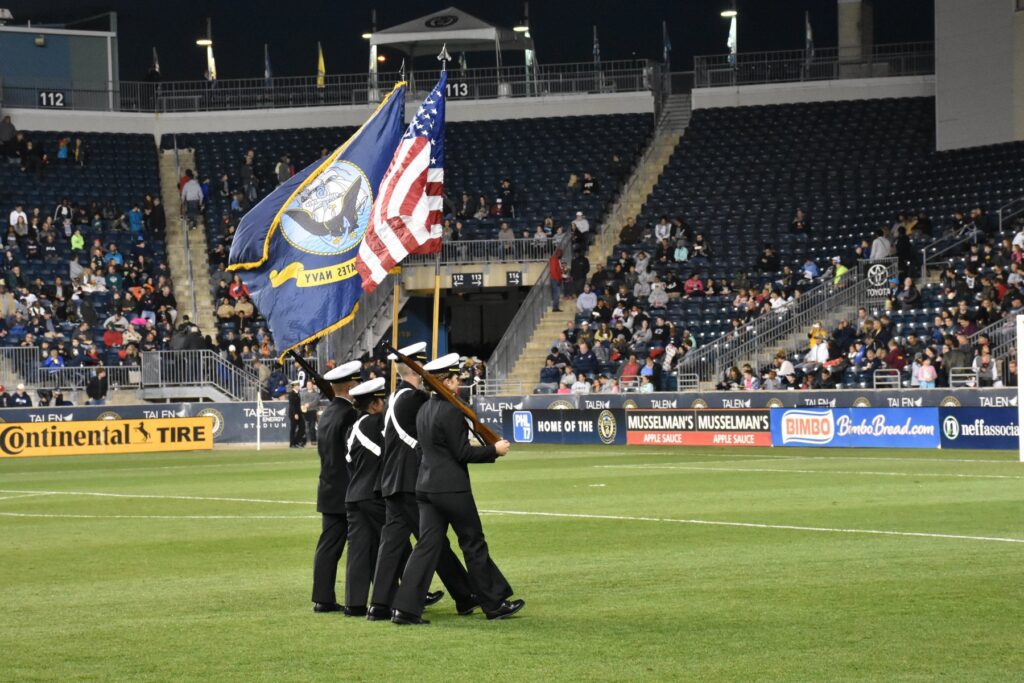 The battalion proudly recognizes alumni contributions to our great nation long after they leave our unit and earn their commission.