Rear Admiral David G. Manero, Senior Defense Official, Moscow, Russian Federation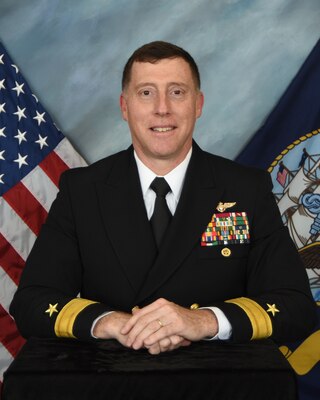 Rear Adm. David Manero is a native of Highland Park, New Jersey. A 1988 graduate of the University of Pennsylvania with a Bachelor of Science in Electrical Engineering, he was designated a naval aviator in July 1989 and is now a foreign area officer (FAO). He is a graduate of the U.S. Naval Test Pilot School Class 112, holds a Master of Public Policy in International Affairs and Security from Harvard University, and a Master of Strategic Studies (with distinction) from the United States Air War College. While assigned to Helicopter Anti-Submarine Squadron Light (HSL) 43, HSL-45 and Commander Carrier Group (CCG) 1, Manero made numerous operational deployments to the Middle East, Asia and South and Central America embarked on USS Paul P. Foster (DDG-964), USS Jarrett (FFG-33), USS Carl Vinson (CVN-70) and USS DeWert (FFG-45).
Other assignments include: legislative fellow and acting military legislative. Assistant for the Senate Minority Leader; U.S. European Command as chief, Security Cooperation Programs (ECJ5-SCP) and Chief, European Division (ECJ5-E); U.S. Naval Attaché (ALUSNA) Moscow; and his most recent tour dual-hatted as chief of the Office of the Chief of Naval Operations International Engagement and Integration/FAO Community Policy Branches (N521/522). Manero is currently assigned as Senior Defense Official/Defense Attaché (SDO/DATT) Moscow, Russia.
Rear Admiral Mark C. Montgomery, United States Navy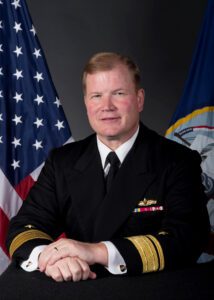 Mark Montgomery graduated from the University of Pennsylvania in 1985 with bachelor's and master's degrees in History and Political Science, and was commissioned through the Navy Reserve Officers Training Corps program. He subsequently attended Oxford University where he earned a master's degree in History. He has also completed the Navy's nuclear power training program. Montgomery's shipboard assignments include tours as an engineering division officer on USS Bainbridge (CGN 25); operations officer on USS Leftwich (DD 984); reactor electrical assistant on USS Theodore Roosevelt (CVN 71); and Executive Officer of USS Elliot (DD 967). From 2001 to 2003, he was the first commanding officer of USS McCampbell (DDG 85), during which time the ship was delivered to the Navy and completed two counter-narcotics deployments. 
Ashore, he was selected as a White House fellow in 1998 and assigned to the National Security Council from 1998 to 2000, serving as a director for Transnational Threats, coordinating national security policy in the areas of counter-terrorism and information protection. He later served as the head of the Strategy Security and Critical Infrastructure Branch in the Office of the Chief of Naval Operations, developing and implementing Navy strategic and operational planning initiatives. In January 2013, he assumed command of Battle Force Seventh Fleet/Task Force Seven Zero/Carrier Strike Group Five permanently.
NASA Astronaut, Captain Christopher J. Ferguson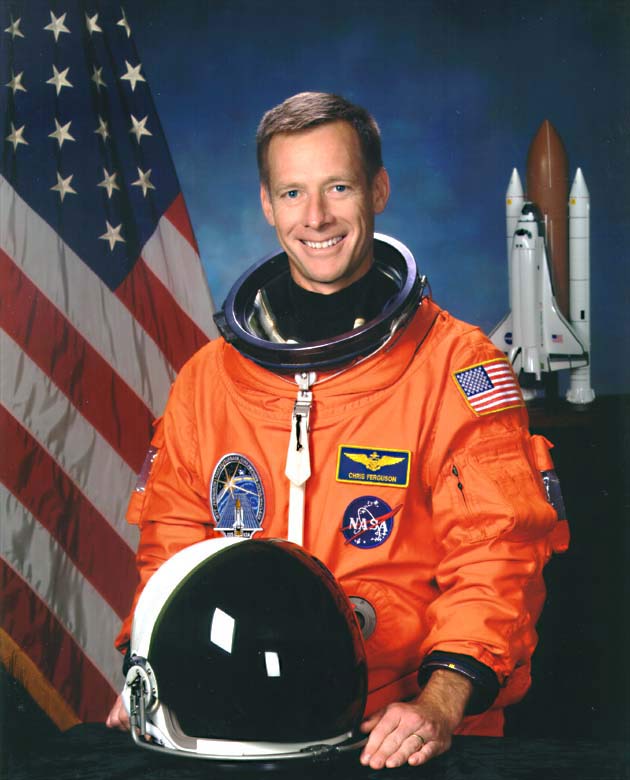 Born in Philadelphia, Pennsylvania, Ferguson received a Bachelor of Science degree in mechanical engineering from Drexel University in 1984, and earned his Master of Science Degree in aeronautical engineering from the Naval Postgraduate School in 1991. He received his Naval Aviator wings in NAS Kingsville, Texas in 1986 and was ordered to the F-14 Tomcat training squadron in Virginia Beach, Virginia. He joined the 'Red Rippers' of VF-11 deploying to the North Atlantic, Mediterranean and Indian Ocean on board the USS Forrestal (CV-59). While with VF-11, he also attended the Navy Fighter Weapons School (TOPGUN). He was selected for the United States Naval Test Pilot School program in 1989 and graduated in 1992. 
Through June 1994 he was assigned to the Weapons Branch of the Strike Aircraft Test Directorate at the Naval Air Station Patuxent River, Maryland where he served as the project officer for the F-14D weapons separation program. He served one year as an instructor at the Naval Test Pilot School before joining the 'Checkmates' of VF-211 in 1995 and completing a deployment to the Western Pacific and Persian Gulf in defense of the Iraqi no-fly zone on board the USS Nimitz. Ferguson served as CAPCOM for the STS-118 mission. He also served as CAPCOM for the STS-128 and STS-129 missions. Ferguson currently works for Boeing as director of Crew and Mission Operations for Boeing's Commercial Crew Program.
Rear Admiral Scott Weikert, United States Navy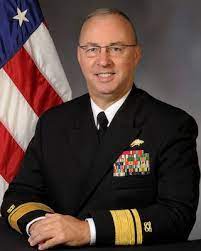 A native of York, Pa., Weikert enlisted in the Navy in August 1974. After completion of nuclear power training, he was commissioned through the Naval Reserve Officers Training Corps program at Drexel University in 1981 where he graduated with a Bachelor of Science in Electrical Engineering. He earned a Master's in Business Administration from Pennsylvania State University in 2000. His active duty assignments include tours with Amphibious Construction Battalion Two, Little Creek, Va., Northern Division, Naval Facilities Engineering Command, Philadelphia; and resident officer in charge of construction at the Philadelphia Naval Shipyard. 
Affiliating with the Navy Reserves in 1987, Weikert served as the operations officer of Naval Mobile Construction Battalion (NMCB) 21, Lakehurst, N.J., the 2nd Naval Construction Brigade, Norfolk, and the 7th Naval Construction Regiment, Newport, R.I.; and, Naval Engineer Forces Korea. While commanding the 7th Naval Construction Regiment, the regiment was mobilized in July 2004 where Weikert served as the Deputy Commander and Chief of Staff of the 1st Marine Expeditionary Force Engineer Group, Camp Fallujah, Iraq, providing general engineering and construction services in support of Operation Iraqi Freedom. In his civilian occupation, Weiert is an equity partner Commodore Builders, Inc., headquartered in Boston, providing general contracting services throughout New England.
Rear Admiral Joseph F. Campbell, United States Navy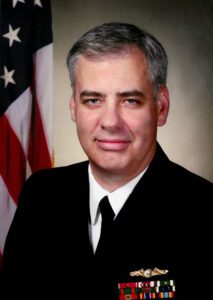 Joseph F. Campbell was born in Lancaster, PA. He graduated from the University of Pennsylvania with a Bachelor of Science degree in Mechanical Engineering in 1980 and later earned a Naval Engineer's degree and Master of Science in Mechanical Engineering from the Massachusetts Institute of Technology. Campbell was commissioned as an Engineering duty officer in May 1980 via the NROTC program and reported for duty on board the USS HOLLAND (AS 32) in Holy Loch, Scotland. Follow on waterfront assignments were at Pearl Harbor Naval Shipyard, Supervisor of Shipbuilding Newport News, Trident Refit Facility, Kings Bay and Norfolk Naval Shipyard. He also completed two staff tours at Commander Submarine Force, U.S. Atlantic Fleet. 
In November 2003 he returned to Norfolk Naval Shipyard as the 101st Shipyard Commander. In May 2006 Campbell was nominated for appointment to flag rank, and in July 2006 reported for duty as deputy director, Fleet Readiness Division in the Office of the Chief of Naval Operations at Washington, D.C. Campbell then became the Fleet Forces Command, director of Fleet Maintenance (N43) in May 2008 and reported as the deputy commander, Logistics, Maintenance and Industrial Operations, Naval Sea Systems Command in June 2009. Campbell has been awarded the Legion of Merit, Meritorious Service Medal, Navy and Marine Corps Commendation Medal and the Navy Marine Corps Achievement Medal in addition to numerous campaign and unit awards.
Rear Admiral Upper Half Nancy J. Lescavage, 20th Director of Navy Nurse Corps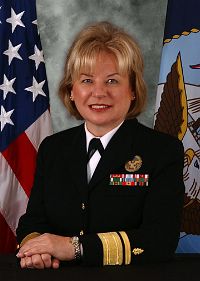 Since receiving her commission in May 1972, Rear Admiral Lescavage has held numerous senior executive leadership positions. Quickly recognized as an authority on the legislative process and its application to health care, she provided critical liaison with the White House and health care task forces concerning National Health Care Reform issues. From August 1989 to March 1993, as a Senior Health Facilities Planner for the Assistant Secretary of Defense (Health Affairs), Rear Adm. Lescavage was responsible for the planning and design of military medical construction projects world wide and for performing comprehensive health care and cost-benefit analyses in support of DoD initiatives. Prior to her Department of Defense assignments, she was in charge of the Recruit Medical Clinic at Recruit Training Command, Great Lakes, Illinois. 
Other assignments include: National Naval Medical Center Bethesda, Maryland; Naval Hospital Philadelphia; and the Navy Medical Clinic, United States Embassy, London. During these assignments, she gained expertise in the specialties of Intensive Care, Coronary Care, Operating Room, Obstetrics, Neonatology, Recovery Room, Ambulatory Care, Cardiac Surgery, Medicine and General Surgery. Rear Adm. Nancy J. Lescavage recently served as the 20th Director of the Navy Nurse Corps and was the Commander, Naval Medical Education and Training Command, Bethesda, Maryland. Rear Admiral Lescavage currently is assigned TRICARE Regional Office – West, San Diego, California.
John Lehman, 65th Secretary of the United States Navy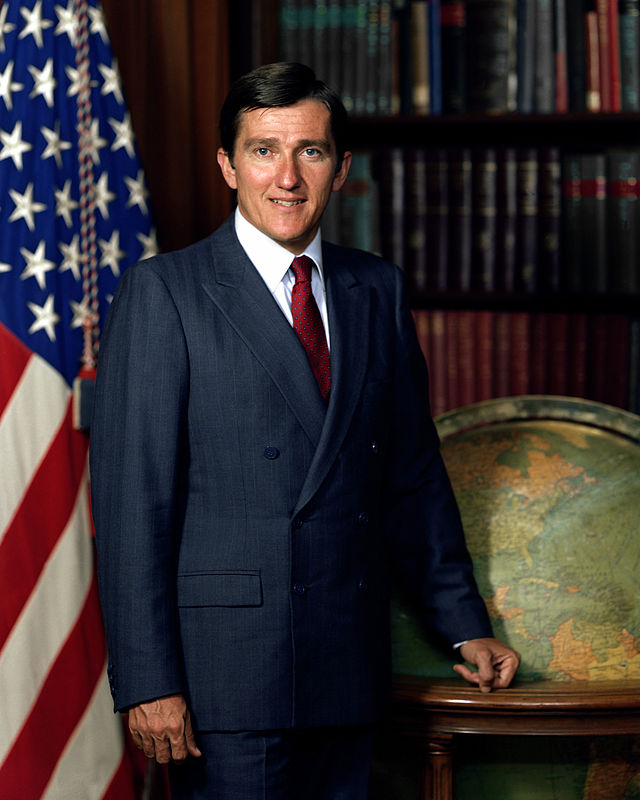 Born in Philadelphia, Pennsylvania, he received a Bachelor of Science in international relations from St. Joseph's University in 1964, gained a B.A. and M.A. from Gonville & Caius College, Cambridge and earned a Ph.D. from the University of Pennsylvania. Lehman served in the Air Force Reserve for three years while at Cambridge, then in 1968 left and joined the United States Navy Reserve as an ensign, later rising to the rank of commander. In 1977 Lehman founded the Abington Corporation, a consulting company with clients including defense companies such as Northrop Corporation. He remained its president and director until 1981, when he was appointed by Ronald Reagan to be Secretary of the Navy. 
From 1981 to 1987, Dr. Lehman served as Secretary of the United States Navy. Prior to serving as Secretary of the Navy, Dr. Lehman was President of the aerospace consulting firm Abington Corporation, served as a delegate to the Mutual Balanced Force Reductions negotiations and was the Deputy Director of the Arms Control and Disarmament Agency. He currently is a director of Ball Corporation, ISO Inc., EnerSys, JFL DMH Partners, LLC ("Drew Marine"). He is Chairman of the Princess Grace Foundation and an Overseer of the School of Engineering at the University of Pennsylvania.
Lieutenant General George Christmas, United States Marine Corps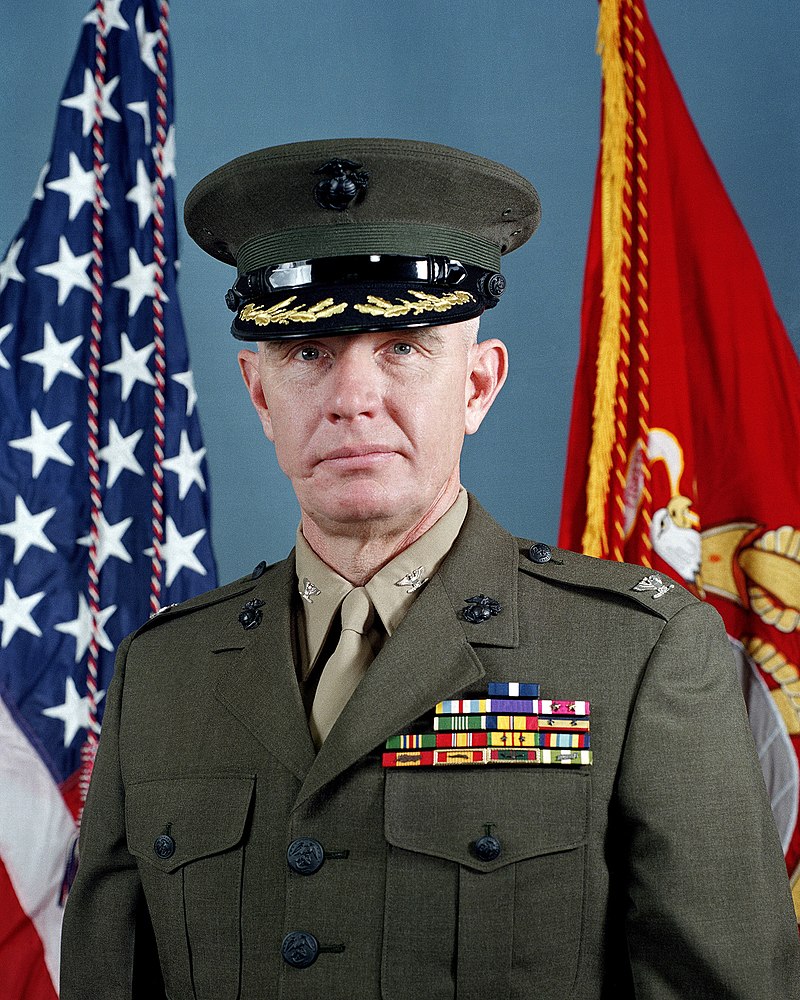 Christmas was commissioned through NROTC as a Second Lieutenant in the U.S. Marine Corps Reserve in 1962. He received his diploma at the University of Pennsylvania with a Bachelor of Arts degree. After completion of The Basic School at MCB Quantico in Virginia, he was assigned as a platoon leader, 3rd Battalion, 2nd Marines 2nd Marine Division, Camp Lejeune, North Carolina. In May 1965, he was assigned to the Marine Barracks in Washington, D.C. where he served as the Executive Officer. Upon promotion to captain in June 1966, he served as Commanding Officer, Headquarters and Service Company. He transferred to South Vietnam in July 1967, where he served successively as Commanding Officer, Service Company, Headquarters Battalion, and Commanding Officer, Company H, 2nd Battalion, 5th Marines, 1st Marine Division, FMF.
During the Battle for Hue City in 1968, Christmas was seriously wounded and evacuated to the Philadelphia Naval Hospital. For his actions of "extraordinary heroism" in Hue city on February 5, 1968, he was awarded the Navy Cross. AFter recovering from his wounds, in October 1968, he was assigned to the staff of The Basic School in Quantic, Virginia; he subsequently attended the Amphibious Warfare School, graduating with distinction. Christmas returned overseas in July 1975, for duty as the Operations Officer and, later, Executive Officer, 3rd Battalion, 4th Marines, 3rd Marine Division, FMF, in Okinawa, Japan. On July 15, 1994, he assumed his final active duty Marine Corps post as Deputy Chief of Staff for Manpower and Reserve Affairs. He retired in 1996 after 34 years of active duty service.
Vice Admiral James A. Zimble, 30th Surgeon General of the United States Navy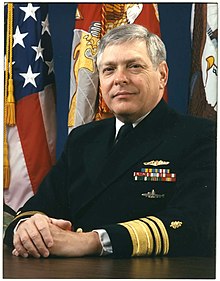 James A. Zimble was born in Philadelphia, Pennsylvania. He received a Bachelor's degree from Franklin and Marshall College and earned his Doctor of Medicine degree from the University of Pennsylvania School of Medicine. He interned at the U.S. Naval Hospital at St. Albans, New York and went to the Naval Hospital at Camp Pendleton, California, where he completed his residency. Prior to getting his flag rank in 1981, he was the Commanding Medical Officer of the Naval Regional Medical Center, Orlando, Florida; Medical Officer of the United States Marine Corps; Fleet Surgeon Commander-in Chief, U.S. Atlantic Fleet. He was promoted to Vice Admiral and Surgeon General of the U.S. Navy in 1987.
Vice Admiral Zimble, as Surgeon General, was responsible for U.S. Navy healthcare programs with almost three million beneficiaries. He was an advisor on all medical matters and he was involved with the medical care during the Gulf War. In 1991, Vice Admiral Zimble retired from the Navy and he was selected to be the President of the Uniformed Services University. He elevated the University in stature, growth, and contributions. The University has become an outstanding center for military health care information, curriculum, education and training. 
First African American United States Marine Corps Officer, Captain Frederick C. Branch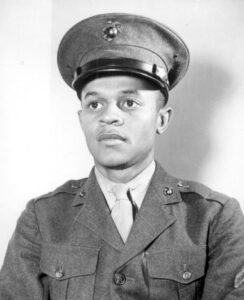 Branch was born in Hamlet, North Carolina, and attended Johnson C. Smith University in Charlotte. He then transferred to Temple University in Philadelphia. After receiving a draft notice from the Army in May 1943, he reported for induction to Fort Bragg, North Carolina, where he was chosen to become a Marine. In June 1941, President Franklin D. Roosevelt had opened the Marine Corps to African Americans through Executive Order 8802, which prohibited racial discrimination by any government agency.
He underwent training at Montford Point, North Carolina, along with other African-Americans (who became known as the "Montford Point Marines"). While serving with a supply unit in the Pacific, his performance earned him the recommendation of his commanding officer. He received his officer's training in the Navy V-12 program at Purdue University, the only African-American in a class of 250. He was commissioned as a second lieutenant on November 10, 1945.
As World War II had ended, he went into the United States Marine Corps Reserve. He was reactivated during the Korean War, serving at Camp Pendleton, California in command of an anti-aircraft training platoon. He was discharged from active duty in 1952, returning to the Reserve, reaching the rank of captain. He left the Marine Corps in 1955. Captain Branch died 10 April 2005 and was buried at Quantico National Cemetery in Quantico, Virginia.