Spring Review 2023
On April 21, 2023, the University of Pennsylvania NROTC performed the Spring Review ceremony with their sister battalion at Villanova University.
Spring Review is a long-standing military tradition, beginning with formation and awards, and culminating in a Pass in Review, wherein the midshipmen are marched past a reviewing officer.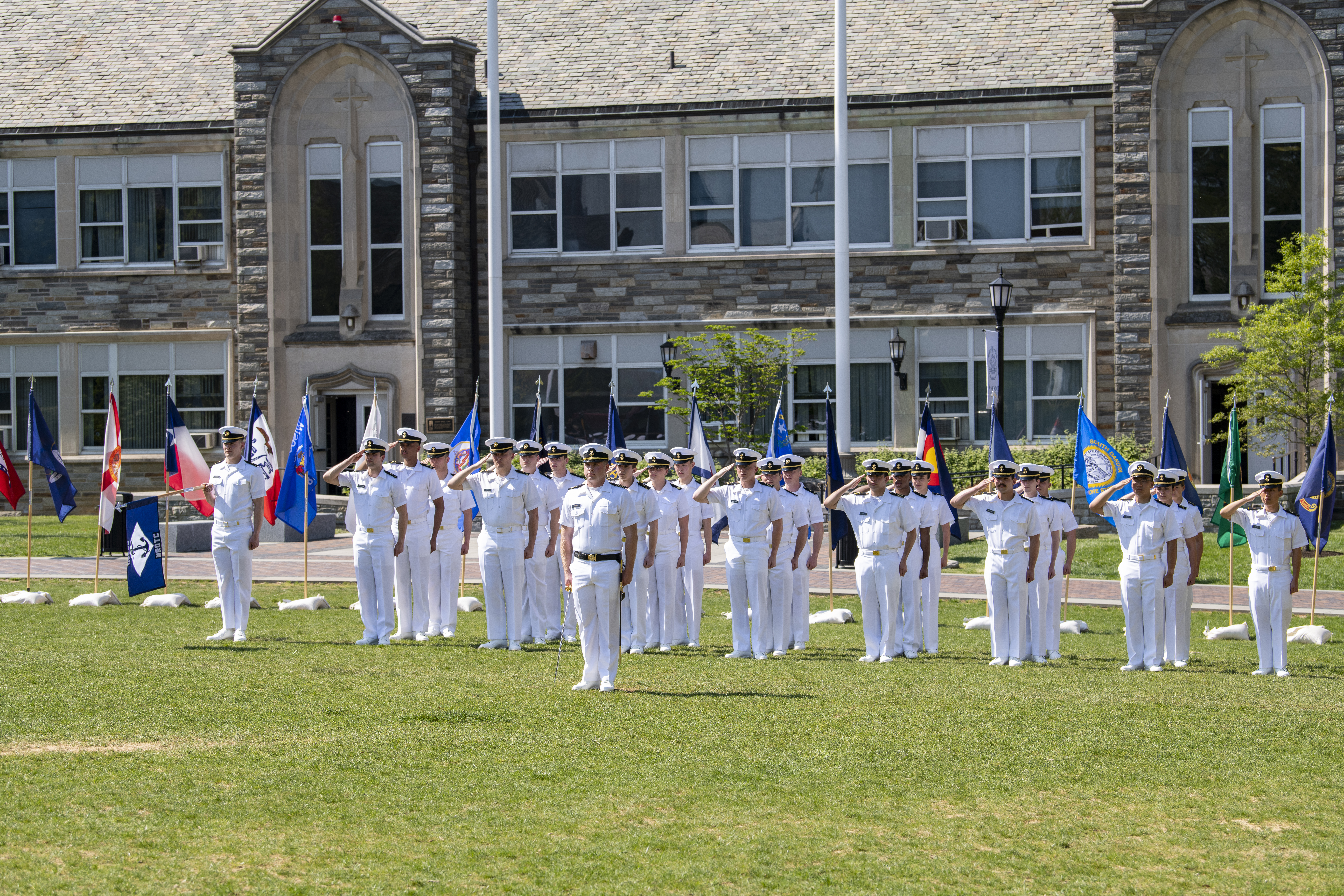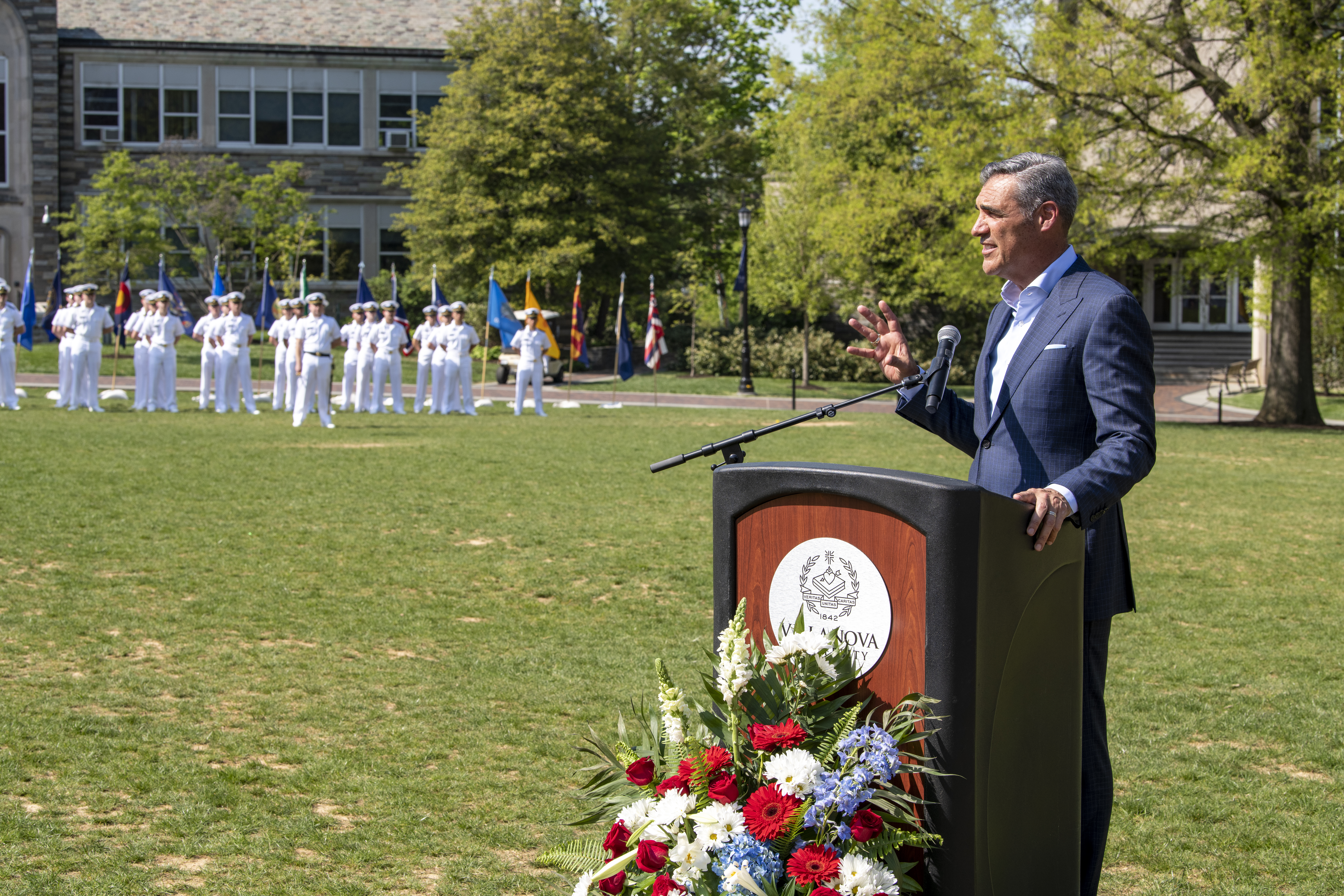 This year's reviewing officer was the renowned former Villanova Men's Basketball coach Jay Wright. Coach Wright served as the Villanova basketball coach from 2001 to 2022, garnering numerous awards and accolades – in 2021, he was inducted into the Basketball Hall of Fame.
During the ceremony, Coach Wright gave an inspiring speech on the values all Midshipmen hold nearest to their core: honor, courage, and commitment – in particular, he noted how these values shape lives and set a high standard for future officers. He is an upstanding member of the community, and the entire Philadelphia Consortium was honored by his performance as the Reviewing Officer for this most august ceremony.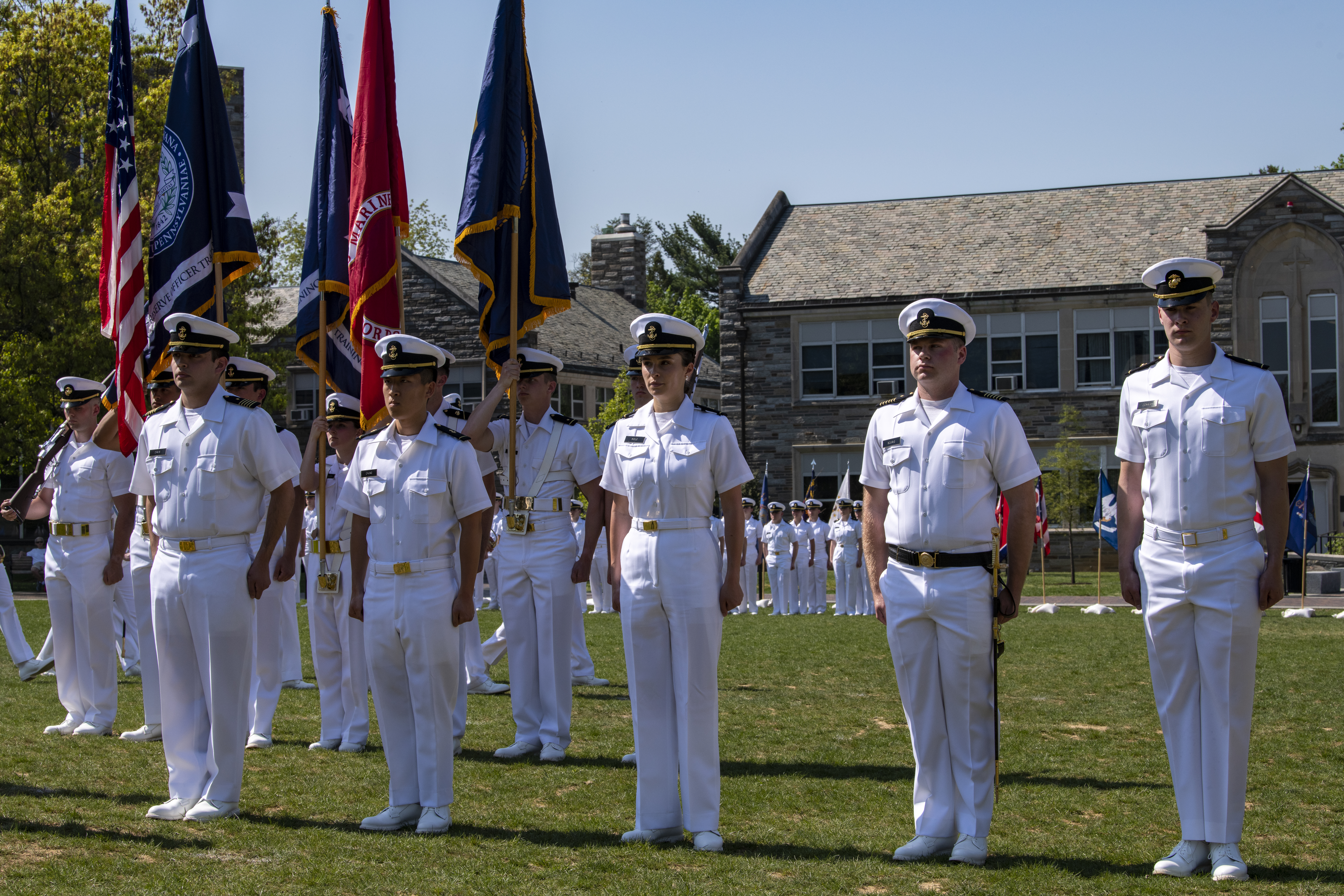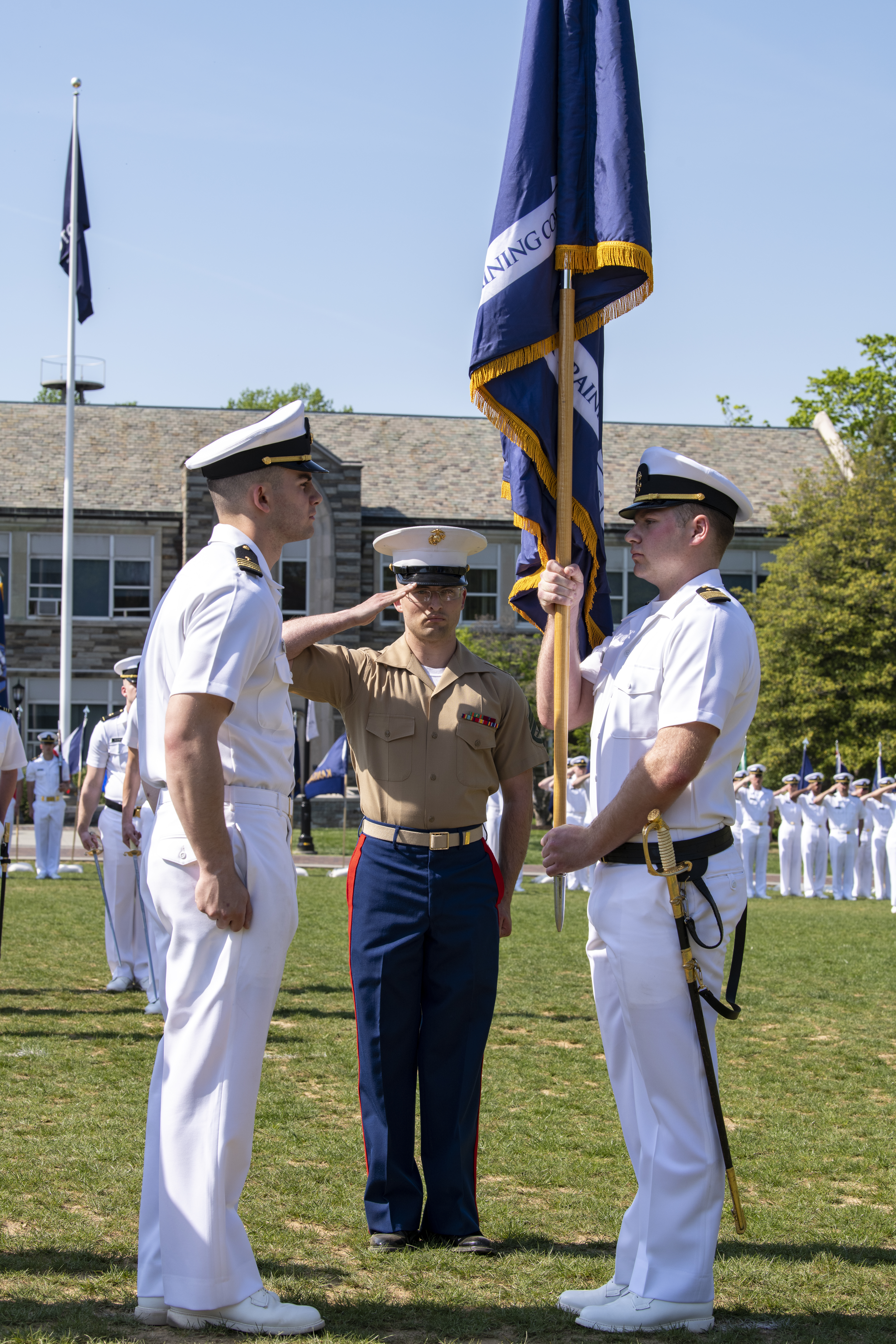 The Spring Review Ceremony also included the Change of Command ceremony. Midshipman first-class Dominic Scurio transferred command of the University of Pennsylvania Battalion to Midshipman second-class William Tinney. In this ceremony, the unit flag is handed from the outgoing to the incoming Battalion Commanding Officer, and the new BCO takes command of the formation. Change of Command occurs at the end of each semester to prepare the battalion for a successful next term, and the ceremony is an essential part of the transition.
For the freshman class, this was their first Spring Review, and it served as the culminating event of the year, bringing to mind the rigor and commitment that NROTC calls for. For the seniors, this was their last Spring Review, and served as a reminder of the years they have spent dedicated to making the unit a more effective institution. For all, it was an important milestone in their development into better leaders.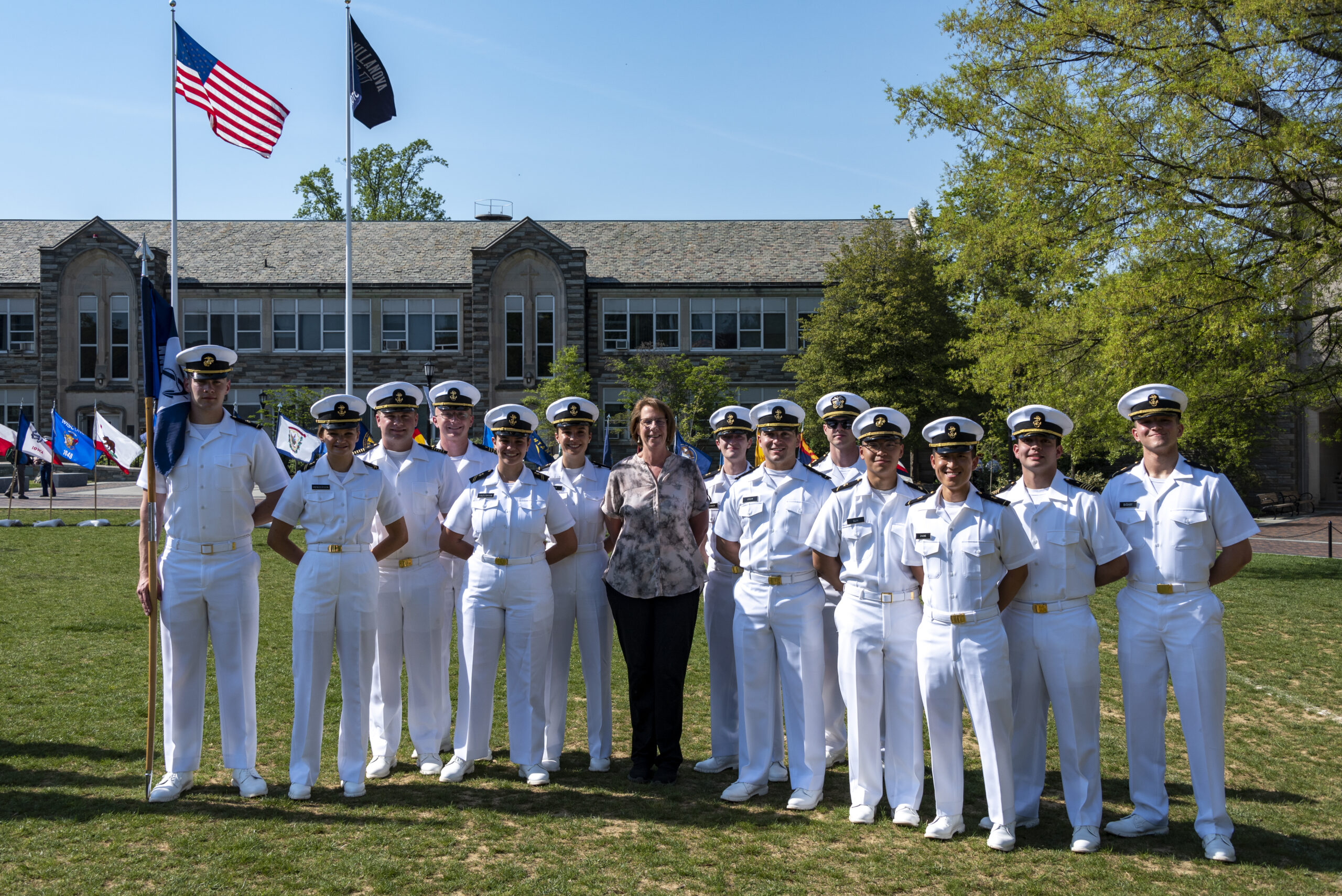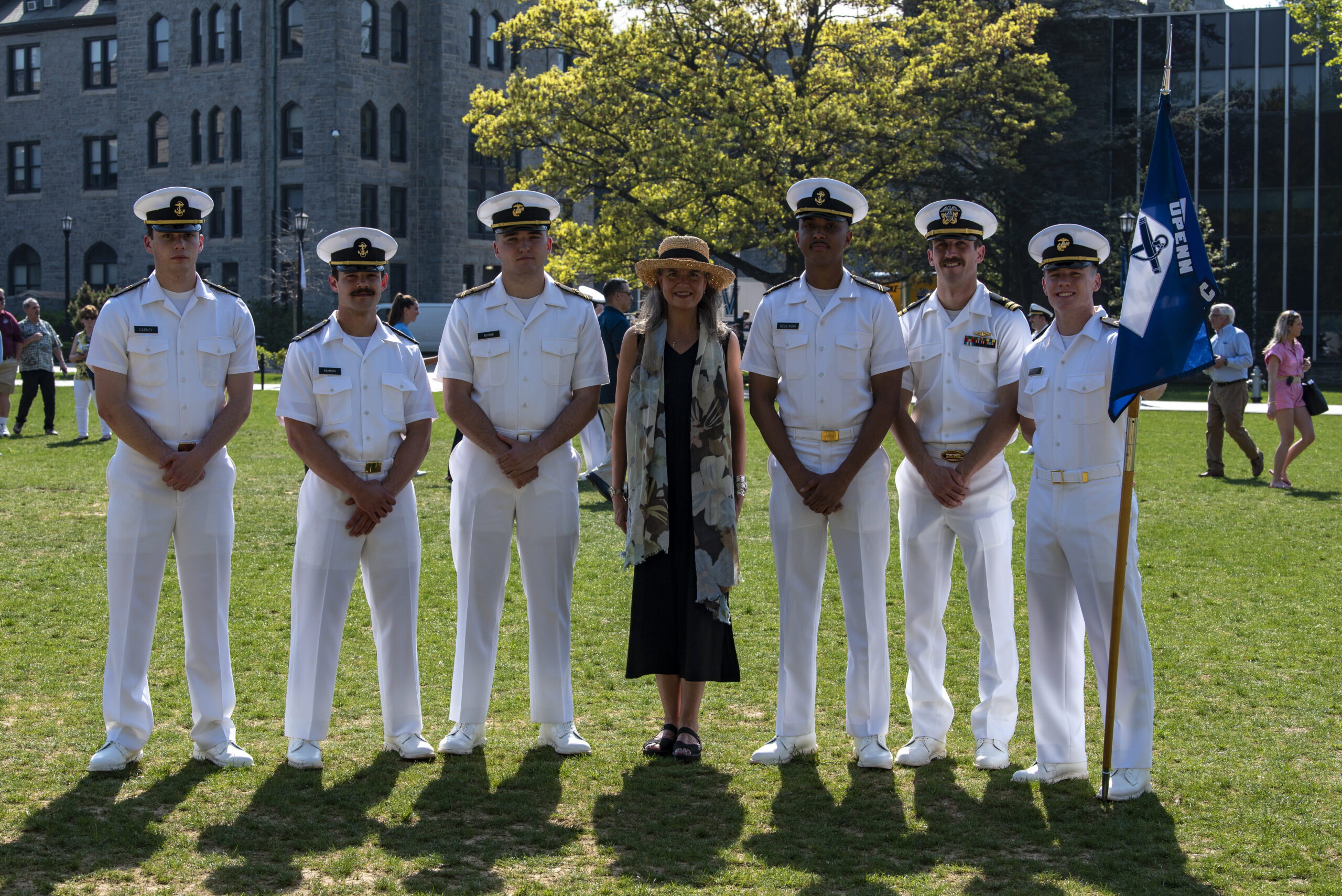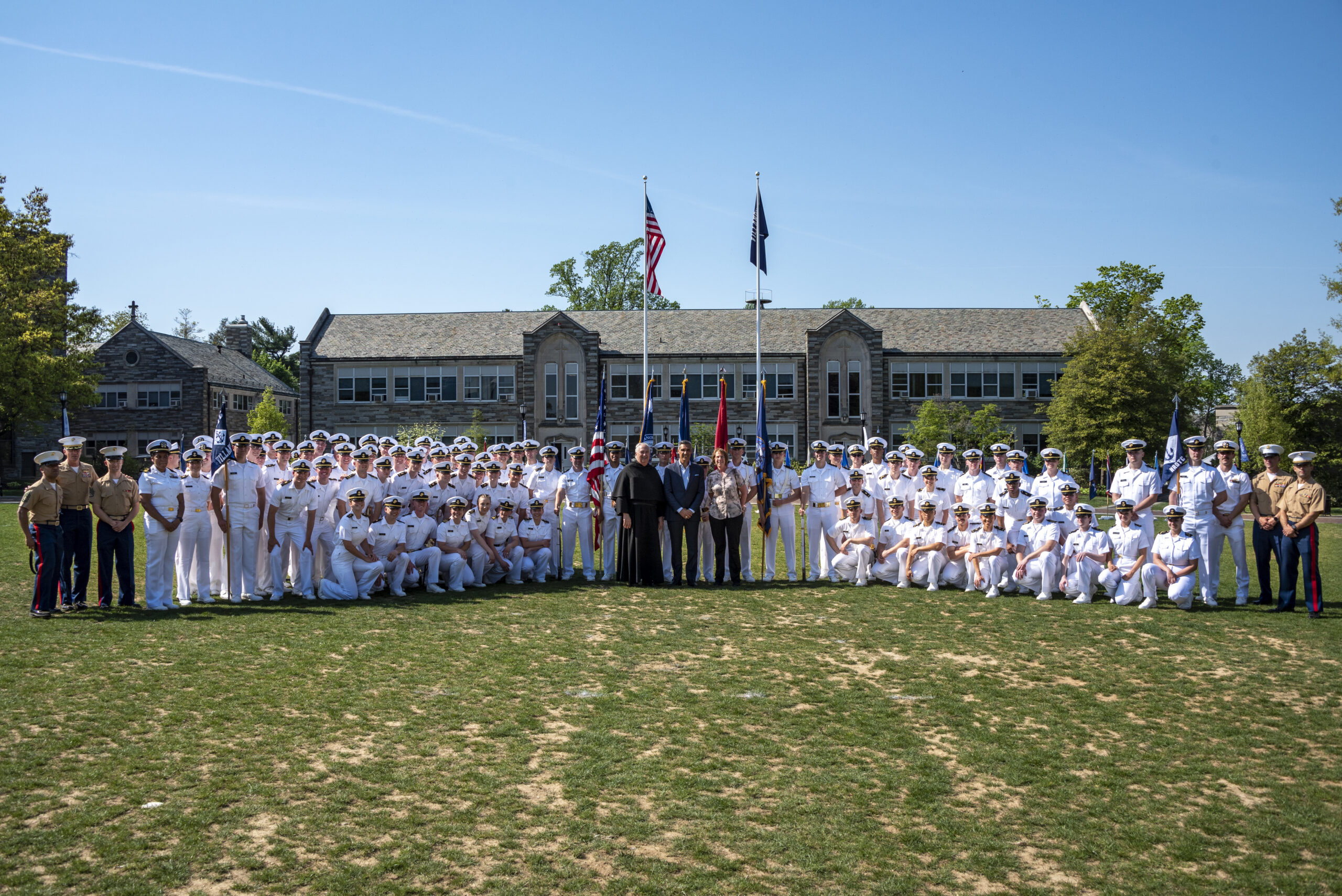 Original article written by Midshipman Fourth Class Carney of Drexel University and Midshipman Third Class Suh of the University of Pennsylvania. 
Marine Options Participate in FEX
Last weekend, the University of Pennsylvania Navy ROTC's Marine Option midshipmen participated in a weekend-long Field Exercise (FEX) at Quantico Virginia. The overall FEX was organized by the George Washington University's NROTC program, with Marine Options coming to Quantico from as far away as SUNY Maritime.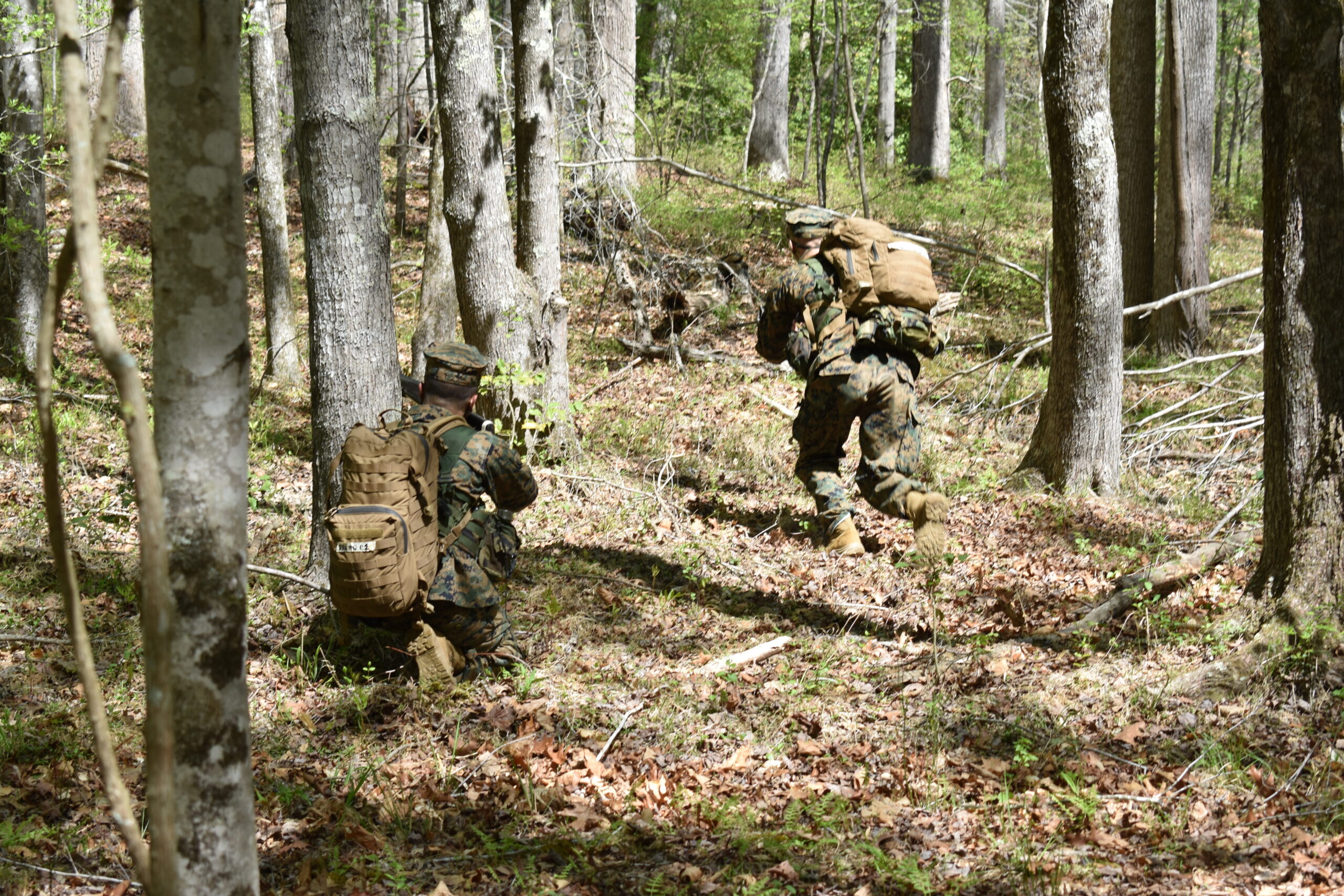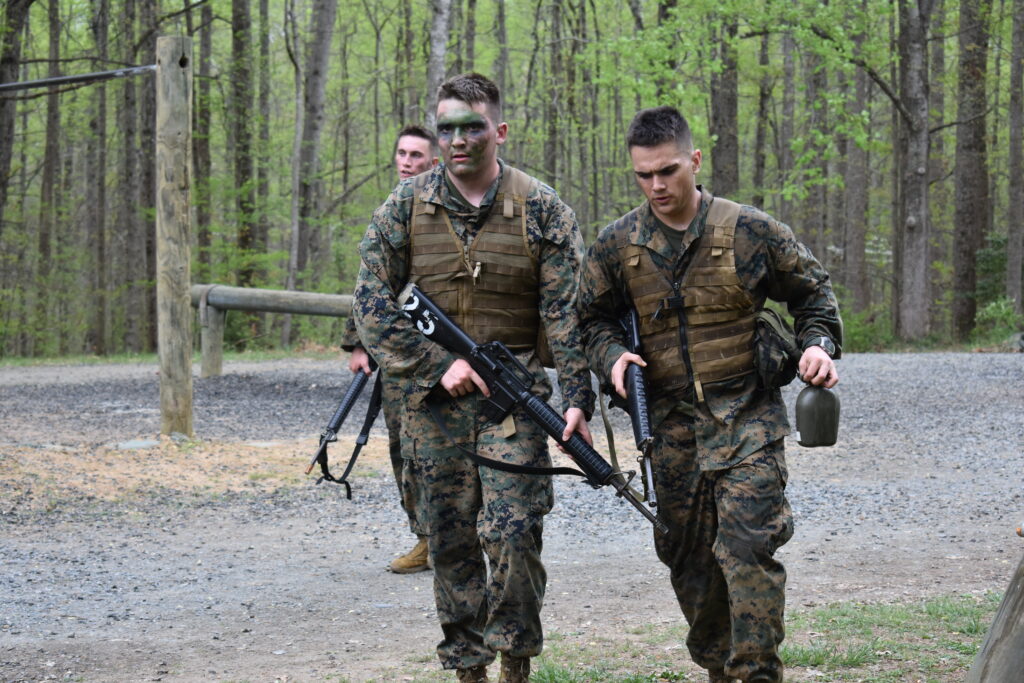 Marine Options conducted a variety of training evolutions, including the obstacle and endurance course, Small Unit Leadership Evaluations (SULEs), patrolling, Leadership Reaction Course (LRC), and pugil stick fights (MCMAP). They spent the entire time in the field, learning and/or practicing valuable field skills, including sleeping in a bivouac system outdoors.
Overall, this Field Exercise was a good learning opportunity, and provided a good opportunity to practice skills for underclassmen, good reps before OCS for 2/C, and an opportunity for 1/C to practice the fundamentals, but also higher skills like terrain association and basic platoon level attacks. 
Original article written by Midshipman Third Class Suh of the University of Pennsylvania. Adapted for this forum by MIDN Wang.
Military Pride in the Philadelphia Community
This week the University of Pennsylvania Navy ROTC performed a Moto run alongside Drexel Army ROTC. Midshipmen and cadets sang cadence songs as they ran to the Rocky steps outside of the Philadelphia Museum of Art. The run put an important spotlight on our military pride and unit culture within the Philadelphia community while also strengthening cross-branch cooperation.
We are incredibly thankful for our Battalion Commander Midshipman Scurio, our Physical Training Instructor Midshipman Jacobs, and Drexel Army ROTC Event Coordinator, CDT Mackenzie Greiner, for setting up this important event!
Original article written by Midshipman First Class Conway of the University of Pennsylvania. Adapted for this forum by MIDN Wang.
Fall Battalion Change of Command Ceremony
In the military, the Change of Command ceremony is a common but important event that takes place when a new commander accepts responsibility for the unit. The University of Pennsylvania Naval Reserve Officer Training Corps conducted its change of command on Friday, 02DEC2022, during which time MIDN First Class Conway passed the reins to MIDN First Class Scurio.
Post adapted from article written by Midshipman Fourth Class Richmond of Temple University.
VADM Cheeseman, Chief of Naval Personnel, Visits Penn NROTC
Vice Admiral Cheeseman, Chief of Naval Personnel, visited the Philadelphia NROTC Consortium on Monday 14NOV2022 to address the unit and tour Penn's and Drexel's campus. VADM Cheeseman also met with Drexel University President, Mr. John Fry.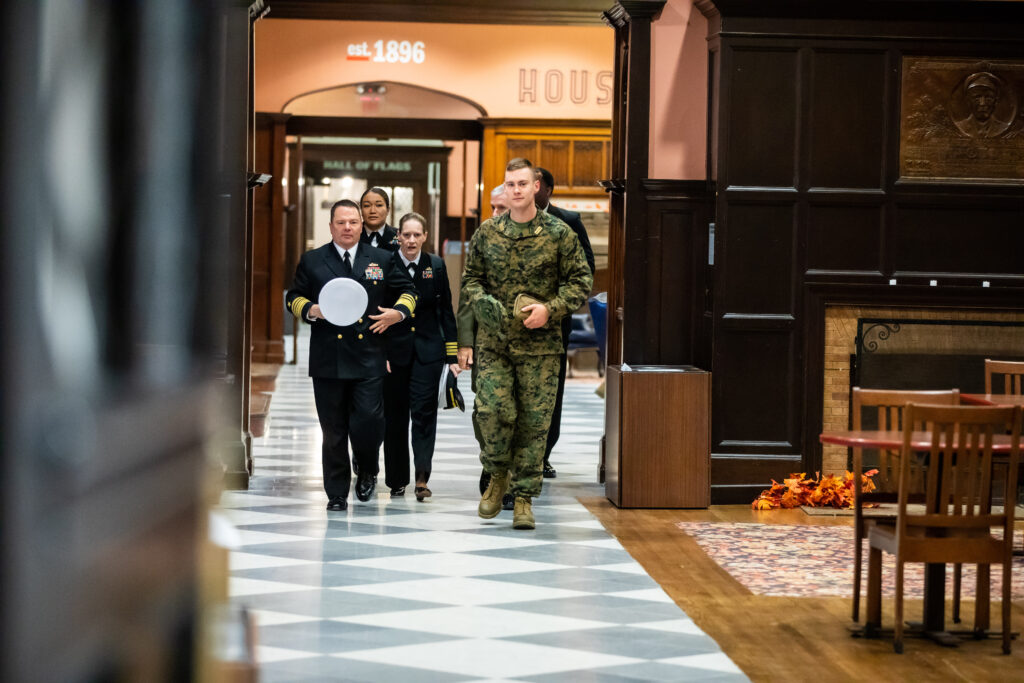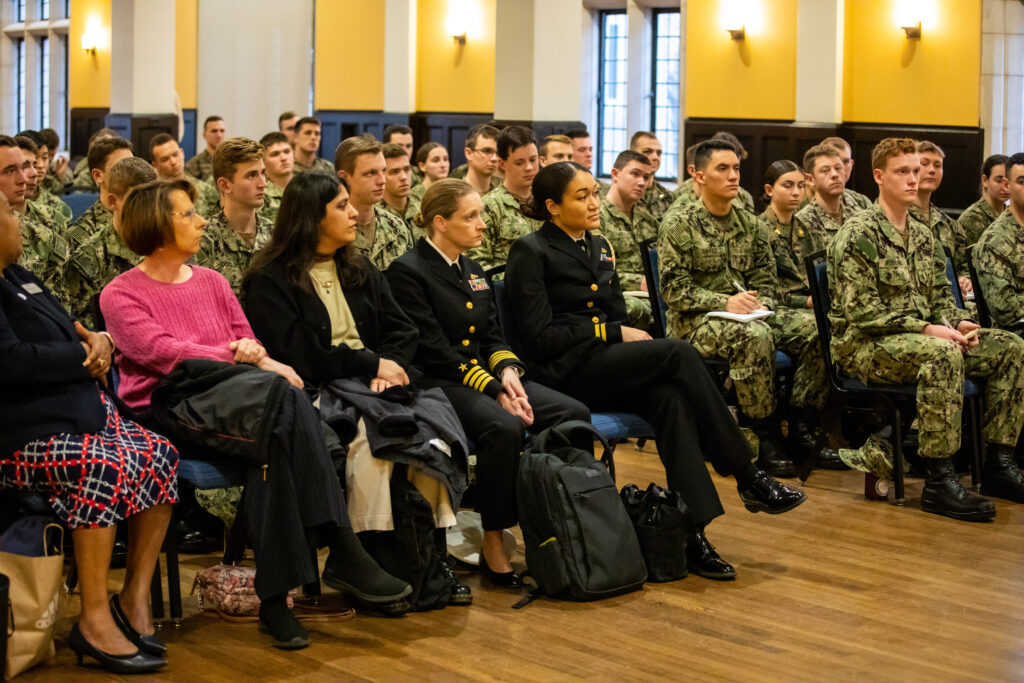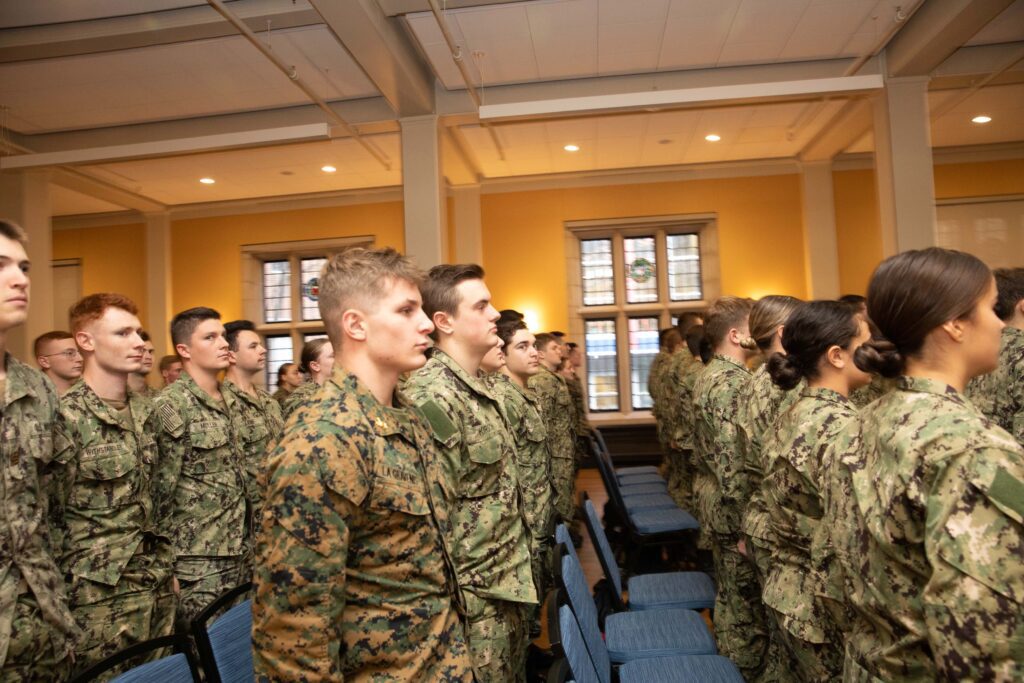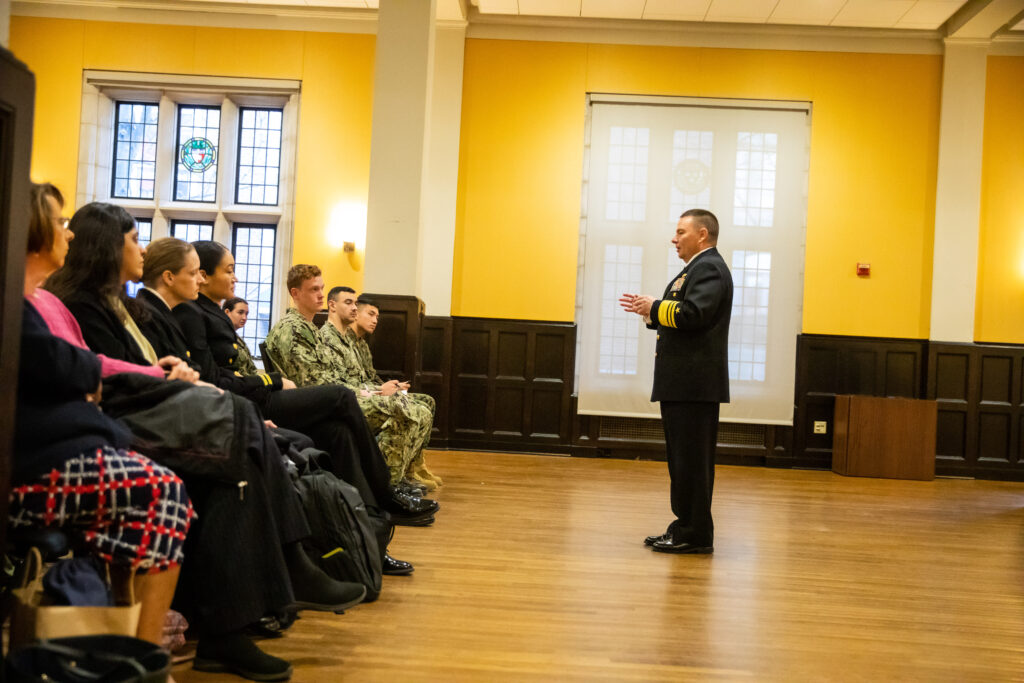 4th Class Midshipmen Bond over Leadership Lessons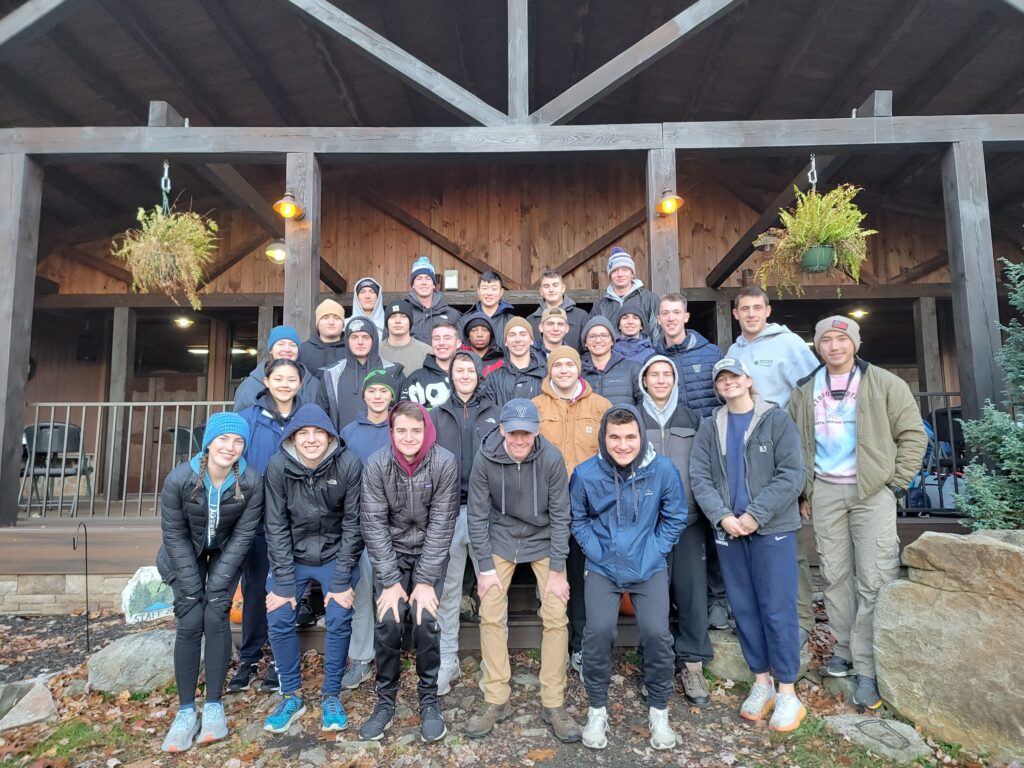 During Halloween weekend, 4th Class Midshipmen and active duty staff from the University of Pennsylvania and Villanova University Naval ROTC units took part in an overnight retreat to Outdoor Odyssey in western Pennsylvania. Outdoor Odyssey is a camp founded by retired Marine Corps General T.S. Jones that includes adventurous activities paired with leadership and team-building lessons that transfer to everyday life.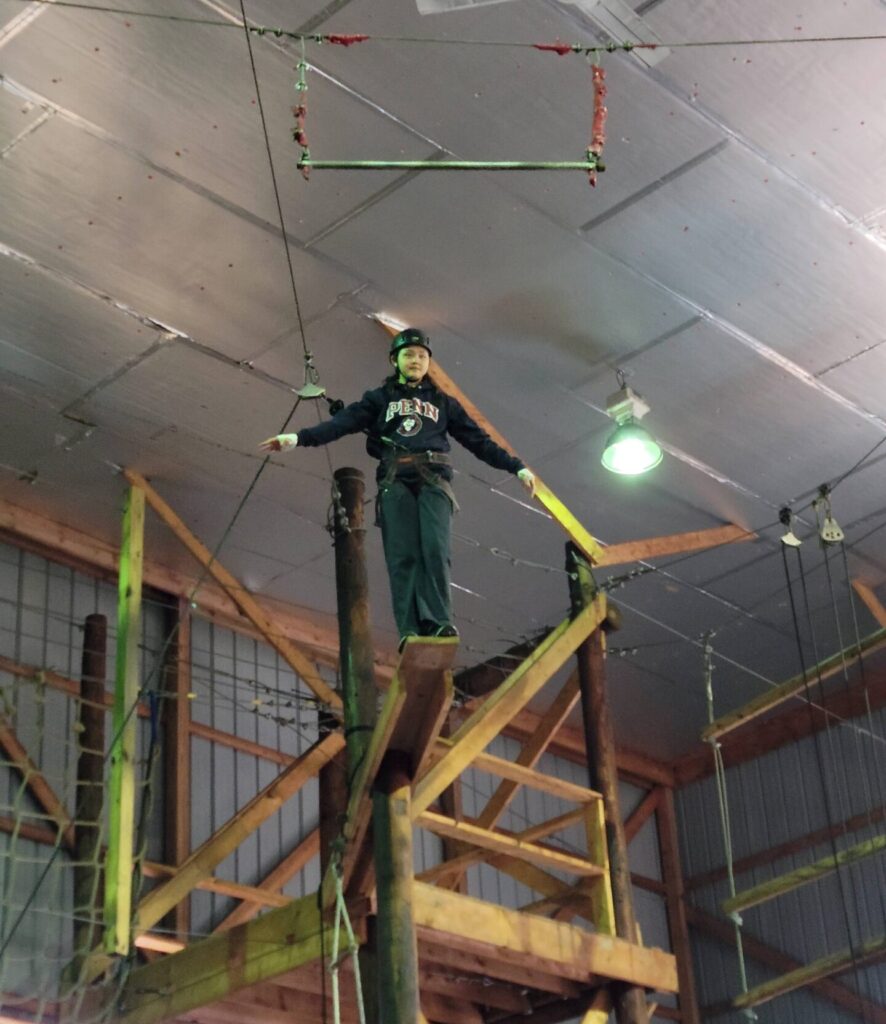 Midshipmen participated in many events including a "leap of faith." Midshipmen, secured to a harness, climbed a 15 foot ladder onto a wooden beam. After walking to the edge of the beam, the Midshipmen would jump off, attempting to grab a bar hanging from the ceiling. This exercise allowed Midshipmen to conquer their fear of heights and trust their gear.
Midshipmen were also split into smaller groups and participated in "Leadership Reaction Courses." Interspersed through the mountainous terrain of Outdoor Odyssey are wooden structures that represent real-world obstacles. Each Midshipman was given an opportunity to lead others in overcoming the obstacles.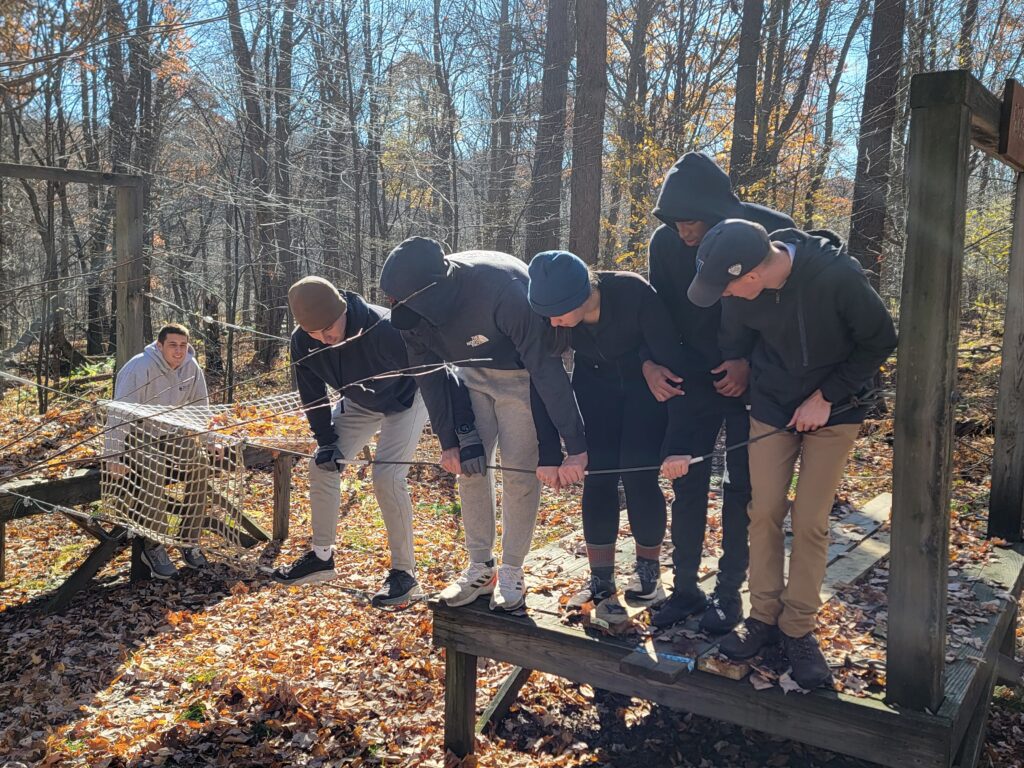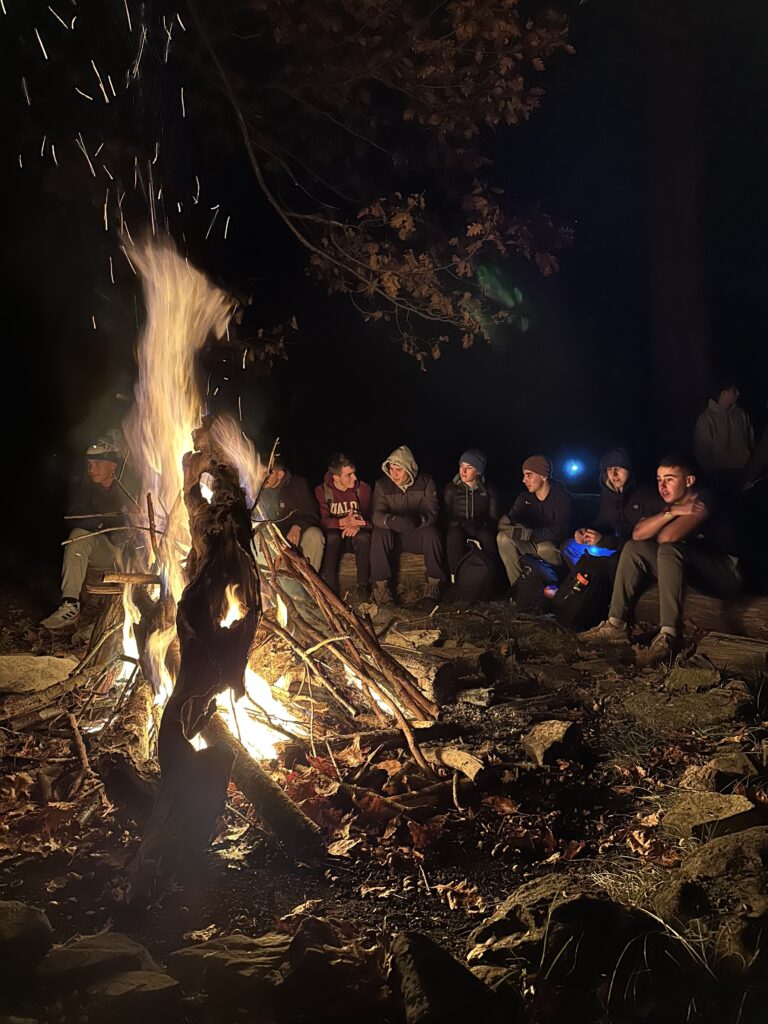 Later in the night Midshipmen were able to set around the campfire and listen to the upperclassmen mentors discuss different leadership theories, such as emotional bank accounts and the 5-4-3-2-1 most important words of leadership.
Emotional bank accounts convey the amount of trust that has been built up in a relationship. It's the feeling of safety you have with another human being. When the trust account is high, communication is easy and effective.
"During Outdoor Odyssey the experiences in which I felt I learned the most about leadership were the obstacles which we went through in small groups. Our ability to work as a team progressed as we went along and faced more challenges. At first my group struggled in communication, and it felt more like an individual task. However, as we rotated the leadership positions, we learned the importance of hearing everyone's ideas and, as the leader, taking all the best ideas your group had to offer into one plan. I learned that leadership is not simply delegating tasks but listening to your subordinates and bringing their different ideas into one solution."
                            Midshipman Foran on his experiences at Outdoor Odyssey
To conclude the weekend, Midshipmen and active duty staff paid a visit to the Flight 93 National Memorial. Midshipmen were able to witness first hand the crash sight of one of the four planes hijacked on September, 11th 2001.
Article adapted from original story by 4th Class MIDN Pryor, edited by 4th Class MIDN Wang.
UPenn Midshipmen Participate in Military Excellence Competition
On the weekend of October 21st, nine University of Pennsylvania Midshipmen (MIDN) traveled to Cornell University, where they participated in the 2022 Cornell University Invitational Drill Competition. Combined with MIDN from the Villanova NROTC Unit, they competed in a wide range of athletic and drill events. Other schools in attendance included the Naval Academy, West Point, the Coast Guard Academy, the University of Rochester, the College of the Holy Cross, SUNY Maritime, and Rensselaer Polytechnic Institute. The events included a Color Guard competition, Platoon Drill Competition, Squad Drill Competition, Individual Drill competition, Individual 5k Race, 4x400m Relay, and 4×100 Freestyle Relay. Over the course of the weekend, University of Pennsylvania midshipmen competed to test their athletic and military skills, displaying to the rest of the attendees the caliber of midshipmen that our Unit creates and supports.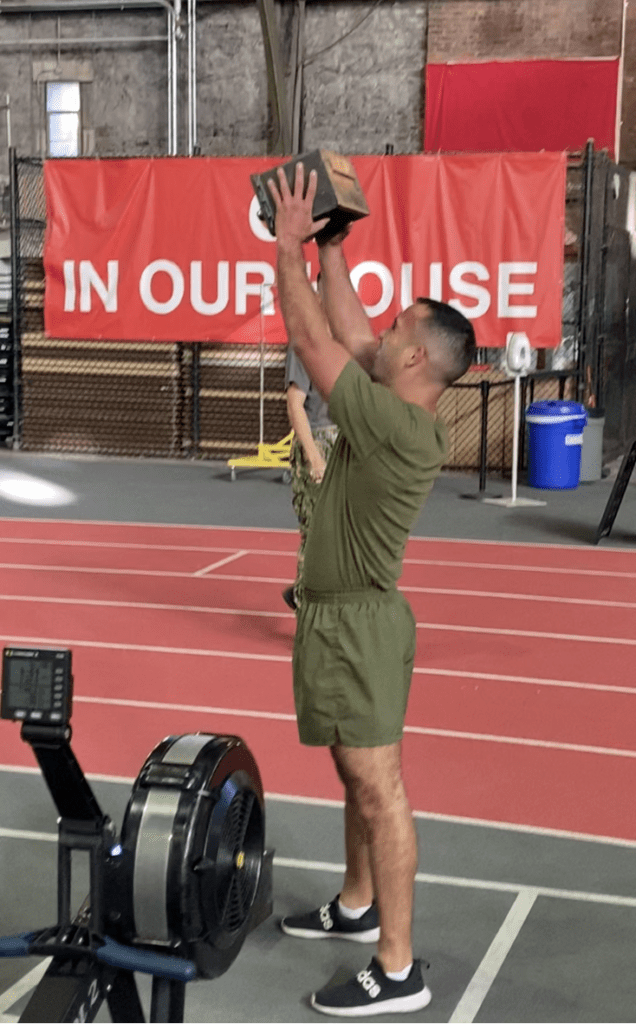 The Color Guard competed against more than ten other Color Guard teams. They completed movements such as Left and Right Wheels, Counter Marches, Eyes Right, and Presentation of the Colors. Below MIDN Tinney, MIDN Zegarksi, MIDN Button, MIDN Grady, and MIDN Robbins conduct a Left-Wheel and Presenting the Colors.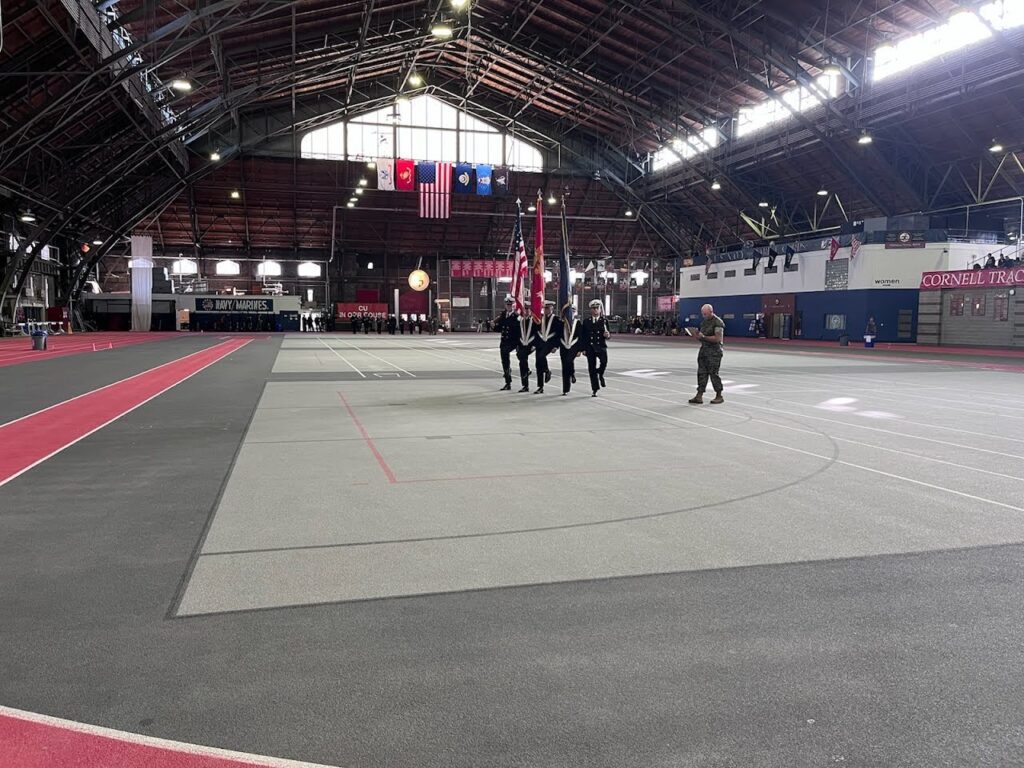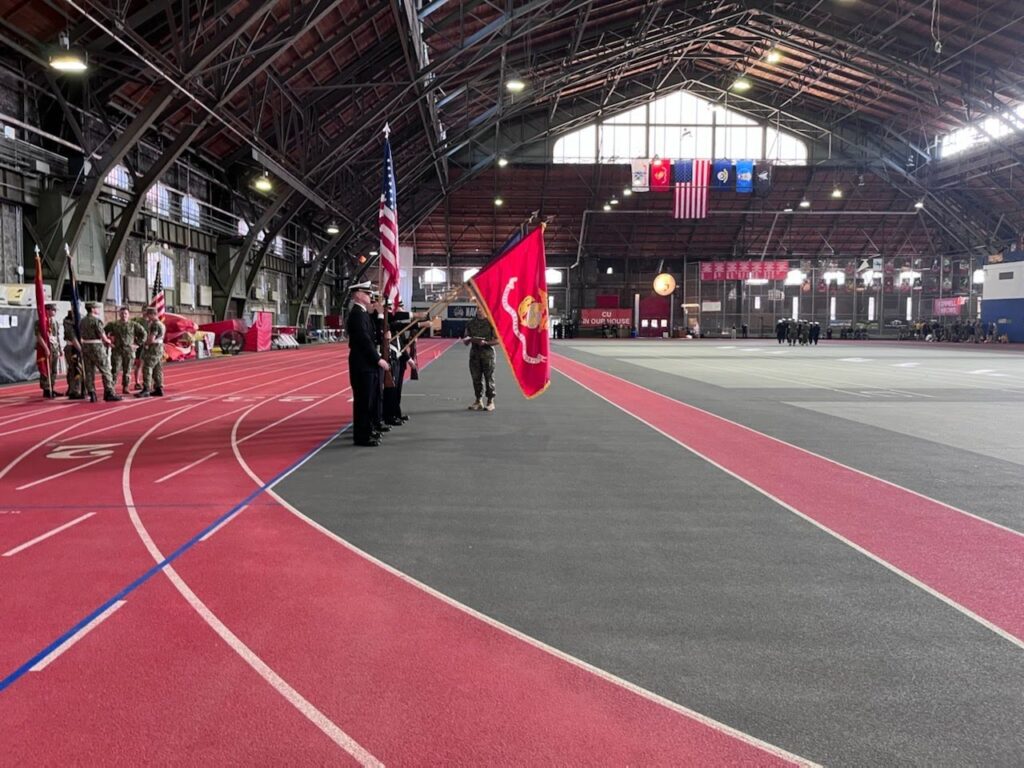 MIDN Himes, MIDN Conway, and MIDN O'Connor all competed in the 5k, pictured below. The 4×400 relay team consisted of MIDN Dwyer, MIDN Grady, MIDN Himes, and MIDN Conway, while the 4×100 Freestyle relay consisted of MIDN Grady, MIDN Conway, MIDN O'Connor, and MIDN Robbins. The weekend proved to be a valuable test of military drill skills and athletic performance. Brazo Zulu, Midshipmen!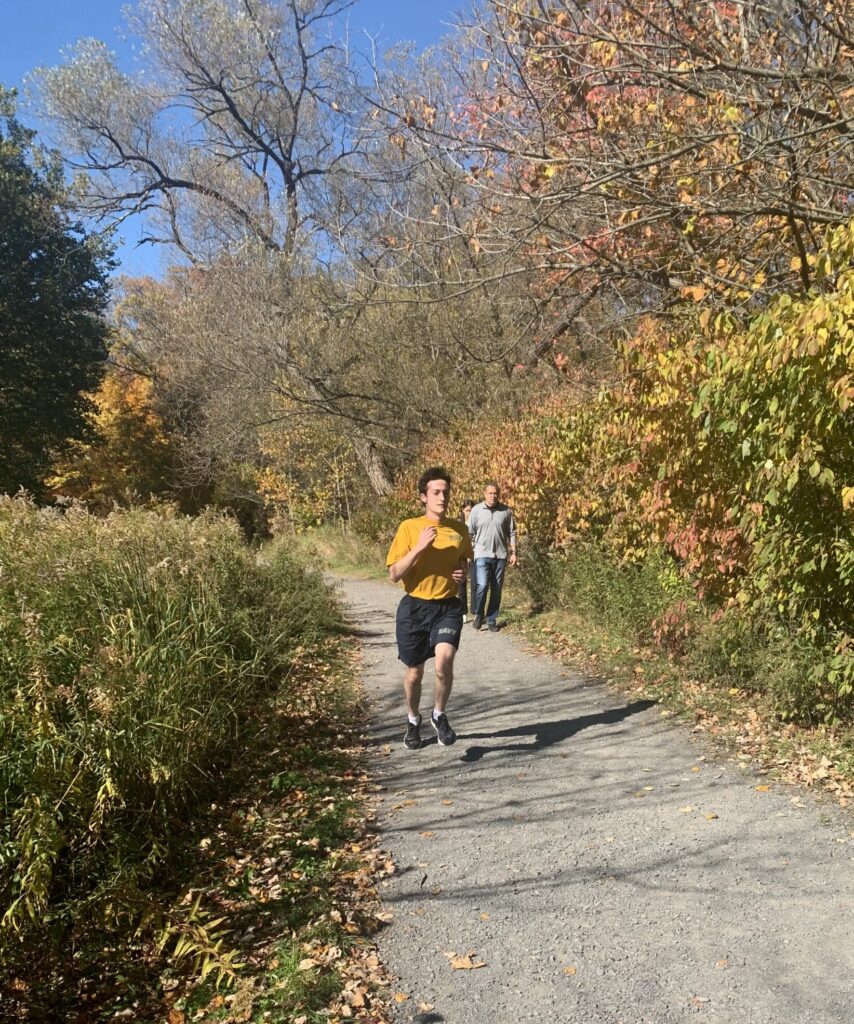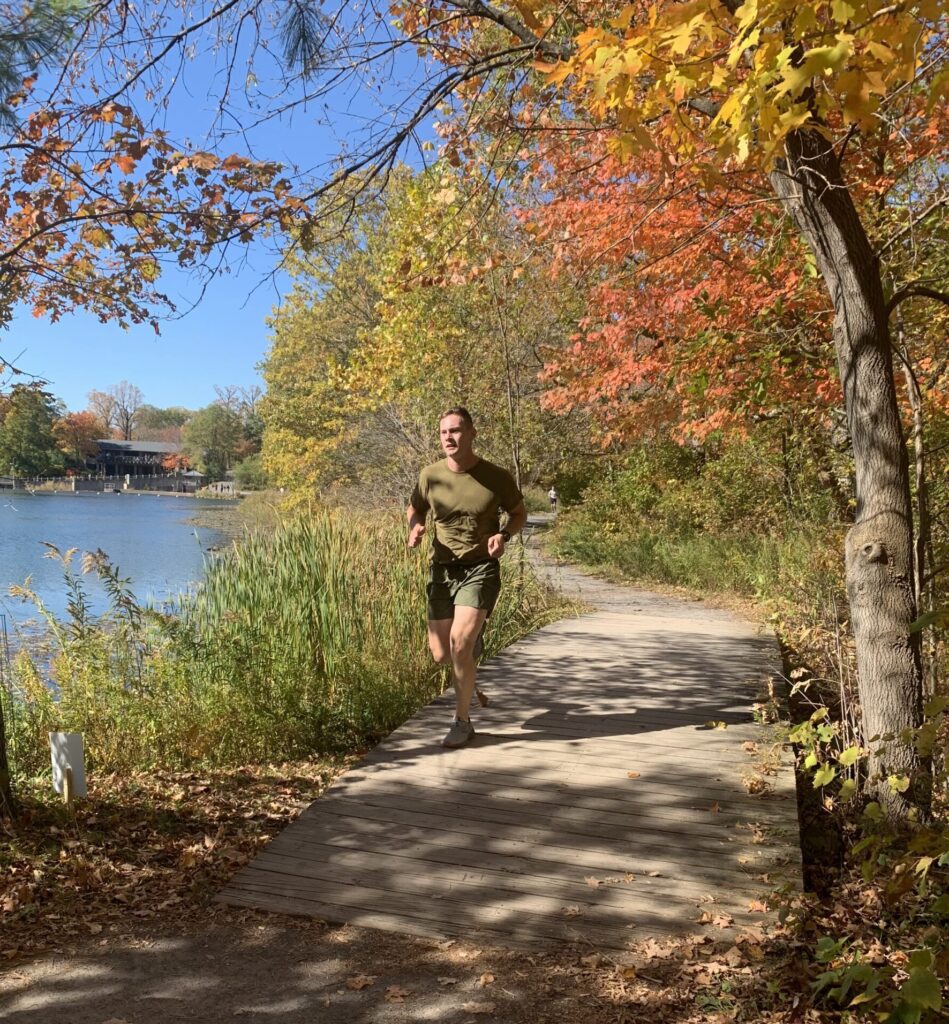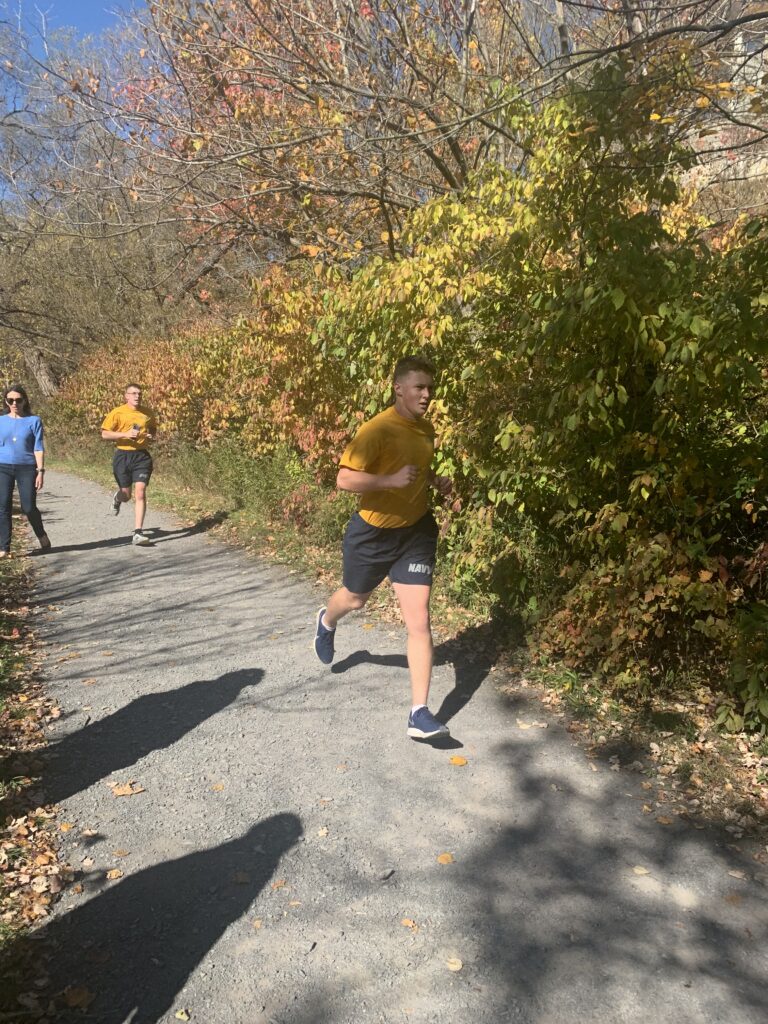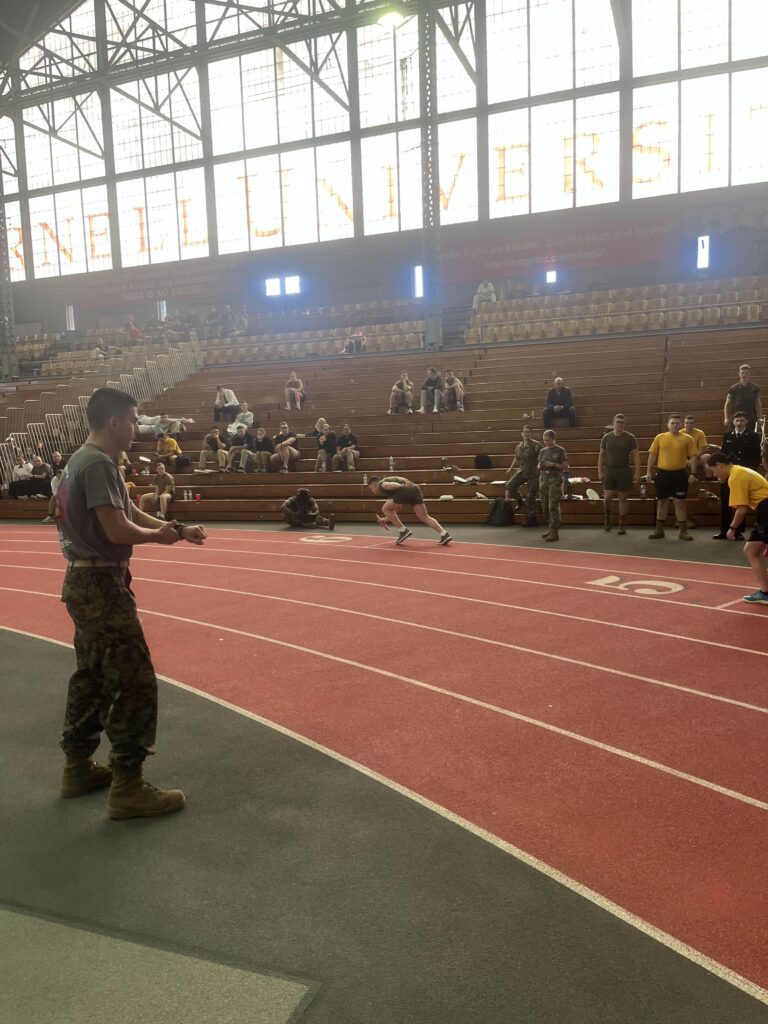 Article adapted from original story by Battalion Executive Officer, MIDN Robbins.
Kilo Company Integrates with Battalion
On September 23rd, 2022, the University of Pennsylvania Naval Reserve Officer Training Corps (NROTC) welcomed the newest class of Midshipmen to our battalion after their graduation from Kilo Company. Kilo Company is an intensive two-week New Student Orientation Program designed to acclimate 4th Class Midshipmen to the unit, and provide them with the skills to be successful college students who are also burgeoning Naval and Marine Corps Officers.
Incoming 4/C Midshipmen's journey began on Onboarding Day, when they reported to the unit for the first time. One of the most important parts of Onboarding Day is reciting the Oath of Office, which was administered by our Commanding Officer, Colonel Ciuccoli. The midshipmen were then given a tour of the facilities, issued their uniforms, and received an introductory brief on NROTC.
MIDN 4/C Andre Richmond, a freshman midshipman who graduated on the 23rd, noted that "Kilo Company sets the standard for this Consortium." He stated that all midshipmen, whether or not they were able to attend the three-week New Student Indoctrination at Naval Station Great Lakes over the summer, had much to gain from the Consortium's New Student Orientation.
Gunnery Sergeant Martinez, Assistant Marine Officer Instructor, teaches Kilo Company the basics of drill.
At 0600 on Friday the 23rd of September, all twelve midshipmen marched to historic Franklin Field where they began their final evolution, a physical crucible, before joining the battalion. After a 20 minute warm up, the midshipmen did nonstop calisthenics for 40 minutes, consisting of exercises like planks, jump squats, and sprints.
Midshipmen then transitioned to Penn Park where they continued to physically train (PT) another forty minutes. The exercises included burpee broad jumps, push-ups, flutter kicks, and buddy drags. Colonel Ciucolli joined the intense training, as well.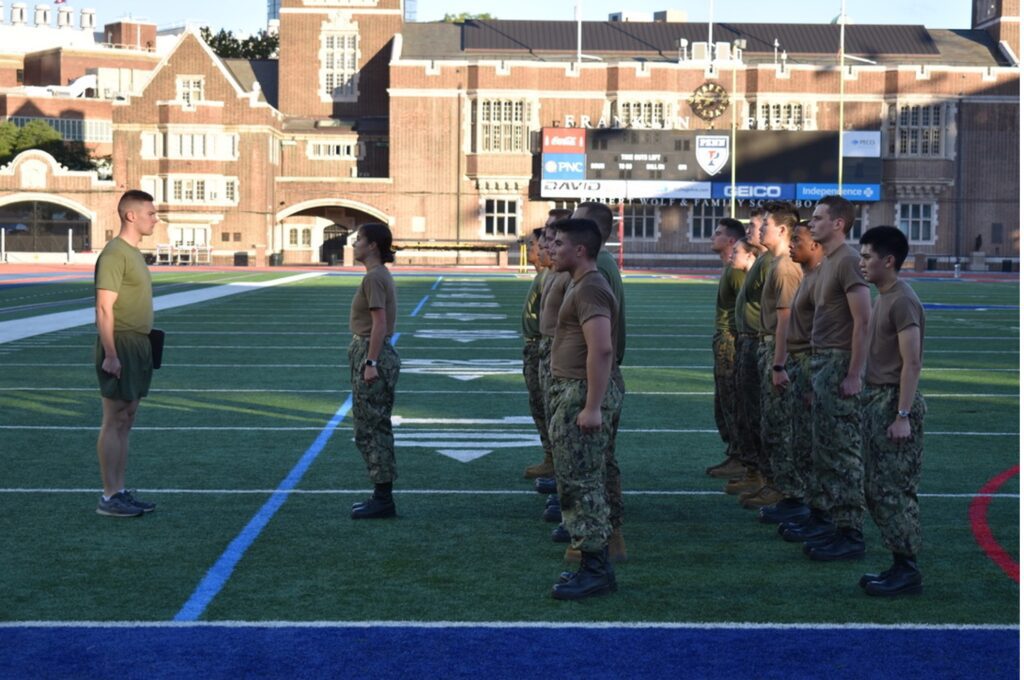 Kilo Company then returned to Franklin Field, where the remainder of the Battalion was waiting to receive the 4/C midshipmen for their integration with the rest of the Battalion. Pictured left is our Battalion Commanding Officer, MIDN 1/C Ian Conway, addressing the Kilo Company Commander, MIDN 1/C Mole, and the rest of Kilo company.
Thank you to the Kilo Company staff for their dedication to training the future of this unit. 4th Class orientation is an incredible responsibility that the Kilo Company Staff did not take lightly. Staff included Company Commander MIDN 1/C Kara Mole and Platoon Commanders MIDN 2/C William Tinney and MIDN 3/C Bryan Suh. Finally, Bravo Zulu to the 4th Class Midshipmen for successfully graduating Kilo Company! The Battalion is excited to welcome you into our unit family and help unlock your full leadership potential during your time at UPenn NROTC.
Original article written by Midshipman First Class Jorgensen of Temple University and Midshipman First Class Mole of the University of Pennsylvania.
Philadelphia ROTC Units Commemorate 9/11 Together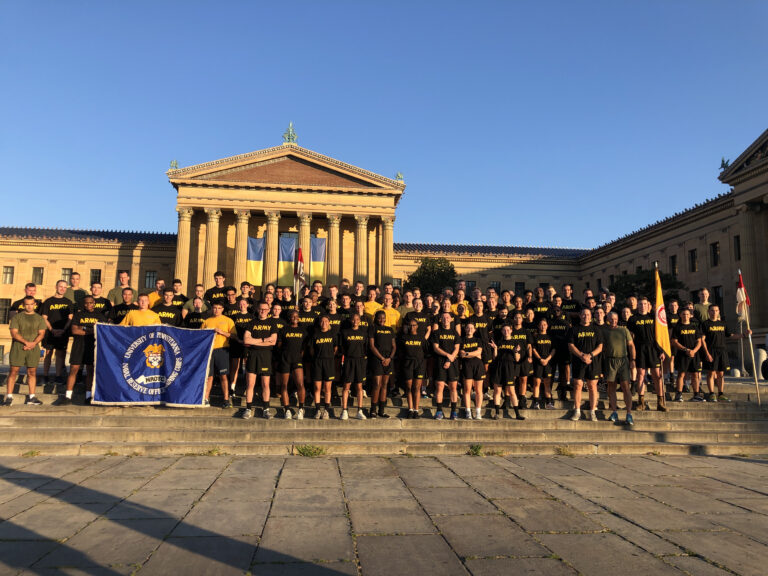 September 11th, 2001 is a day that is seared into the American conscience. It is a day that changed the course of thousands of lives, from the first responders on the 11th to the service members that deployed over the course of the two decades following the tragedy. In honor of the victims, first responders, and service members who lost their lives, the University of Pennsylvania NROTC Consortium joined the Red Diamond Battalion of the Temple Army ROTC unit at the steps of the Philadelphia Museum of Arts to commemorate the day.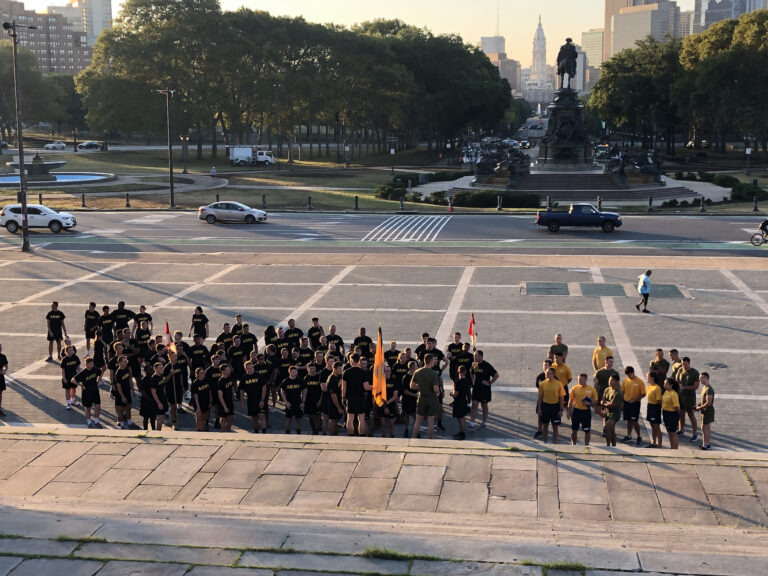 Both Battalion Commanders, MIDN Conway and Cadet Corcran, spoke on the importance of remembrance and how we need to be battle-ready at all times. They also discussed our commonality as warfighters despite being in different branches of the armed services, and how doing events together would benefit us by learning new leadership techniques and the nuances of each respective service. As future Navy and Marine Corps officers, we need to be prepared to work with members of every branch, not just our own.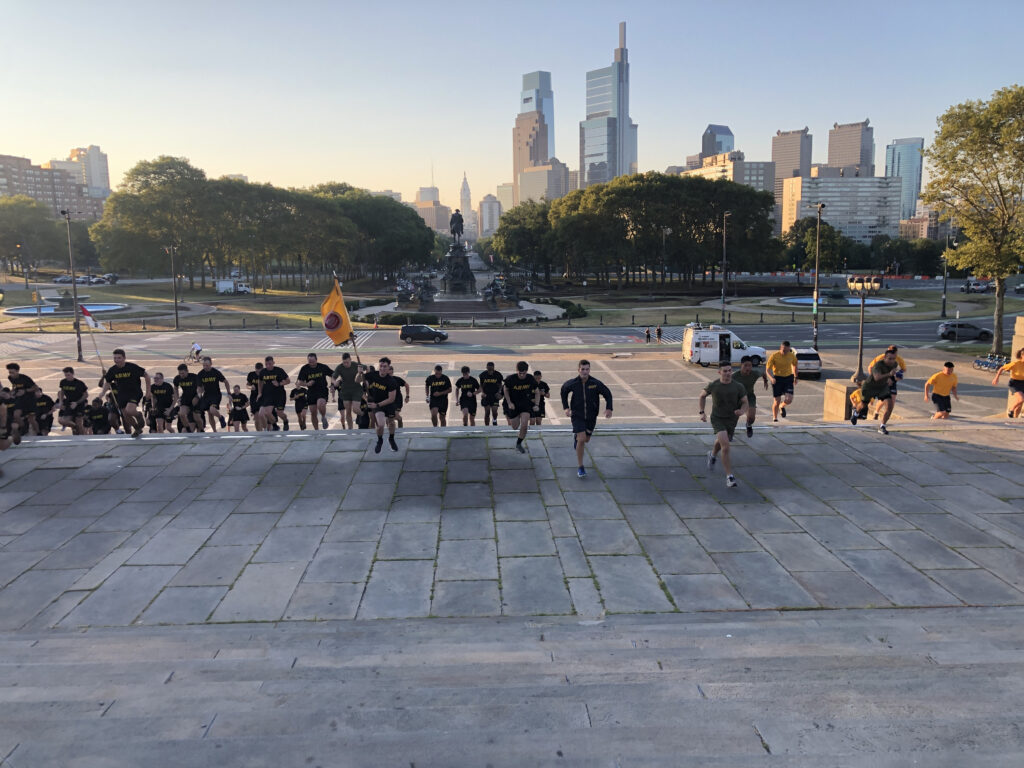 All participants then took part in a friendly competition running up the Rocky Steps.
Following the race, University of Pennsylvania NROTC Commanding Officer Col Ciuccoli and the Red Diamond Battalion's Commanding Officer Lt Col Maszarose addressed the units, emphasizing the historical significance of the day and the need for unity of effort across military branches.
Original article written by Midshipman First Class Jorgensen of Temple University. Adapted for this forum by LT Miller.
Julia Thomas commissioned as an Ensign in US Navy
On December 17, 2021, the Penn community gathered at Houston Hall to celebrate the commissioning of Julia Thomas as an Ensign in the United States Navy. Ensign Thomas, originally from Hagerstown, MD, was this year's sole Navy ROTC scholarship recipient with the rare fall graduation. During her 4.5 years at Penn, she earned both a Bachelor of Science in Nursing and a Bachelor of Science in Economics with a focus on Healthcare Management and Policy.
Known as midshipmen during their undergraduate years, NROTC students participate in drill and physical training, take Naval Science classes, and partake in leadership development curriculum.  
"Ensign Thomas was an exemplary leader during her time here at Penn. We are proud to call her a graduate of our program, and we're excited to see the outstanding contributions she'll make to our nation's military medical community."
Ensign Thomas will be joining the Navy Nurse Corps at the Naval Medical Center in San Diego, CA. She follows a long, rich history of leadership between University of Pennsylvania and the Navy, dating back to the founding of our nation. In 1798, President John Adams appointed Penn graduate Benjamin Stoddert to oversee the newly established Department of the Navy. Stoddert's leadership and vision helped lay the groundwork for the extraordinary US Navy we possess today.
University of Pennsylvania's Naval Reserve Officers Training Corps program seeks to train the most technically and tactically proficient officers to serve in the United States Navy and Marine Corps. Half of participants enter the program as freshmen with a full academic scholarship. Program participants are supported by Navy officers based at Penn and are commissioned upon graduation.