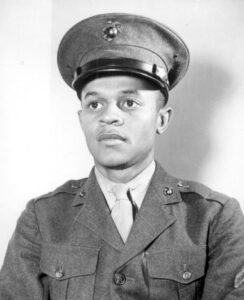 Branch was born in Hamlet, North Carolina, and attended Johnson C. Smith University in Charlotte. He then transferred to Temple University in Philadelphia. After receiving a draft notice from the Army in May 1943, he reported for induction to Fort Bragg, North Carolina, where he was chosen to become a Marine. In June 1941, President Franklin D. Roosevelt had opened the Marine Corps to African Americans through Executive Order 8802, which prohibited racial discrimination by any government agency.
He underwent training at Montford Point, North Carolina, along with other African-Americans (who became known as the "Montford Point Marines"). While serving with a supply unit in the Pacific, his performance earned him the recommendation of his commanding officer. He received his officer's training in the Navy V-12 program at Purdue University, the only African-American in a class of 250. He was commissioned as a second lieutenant on November 10, 1945.
As World War II had ended, he went into the United States Marine Corps Reserve. He was reactivated during the Korean War, serving at Camp Pendleton, California in command of an anti-aircraft training platoon. He was discharged from active duty in 1952, returning to the Reserve, reaching the rank of captain. He left the Marine Corps in 1955. Captain Branch died 10 April 2005 and was buried at Quantico National Cemetery in Quantico, Virginia.