On September 23rd, 2022, the University of Pennsylvania Naval Reserve Officer Training Corps (NROTC) welcomed the newest class of Midshipmen to our battalion after their graduation from Kilo Company. Kilo Company is an intensive two-week New Student Orientation Program designed to acclimate 4th Class Midshipmen to the unit, and provide them with the skills to be successful college students who are also burgeoning Naval and Marine Corps Officers.
Incoming 4/C Midshipmen's journey began on Onboarding Day, when they reported to the unit for the first time. One of the most important parts of Onboarding Day is reciting the Oath of Office, which was administered by our Commanding Officer, Colonel Ciuccoli. The midshipmen were then given a tour of the facilities, issued their uniforms, and received an introductory brief on NROTC.
MIDN 4/C Andre Richmond, a freshman midshipman who graduated on the 23rd, noted that "Kilo Company sets the standard for this Consortium." He stated that all midshipmen, whether or not they were able to attend the three-week New Student Indoctrination at Naval Station Great Lakes over the summer, had much to gain from the Consortium's New Student Orientation.
Gunnery Sergeant Martinez, Assistant Marine Officer Instructor, teaches Kilo Company the basics of drill.
At 0600 on Friday the 23rd of September, all twelve midshipmen marched to historic Franklin Field where they began their final evolution, a physical crucible, before joining the battalion. After a 20 minute warm up, the midshipmen did nonstop calisthenics for 40 minutes, consisting of exercises like planks, jump squats, and sprints.
Midshipmen then transitioned to Penn Park where they continued to physically train (PT) another forty minutes. The exercises included burpee broad jumps, push-ups, flutter kicks, and buddy drags. Colonel Ciucolli joined the intense training, as well.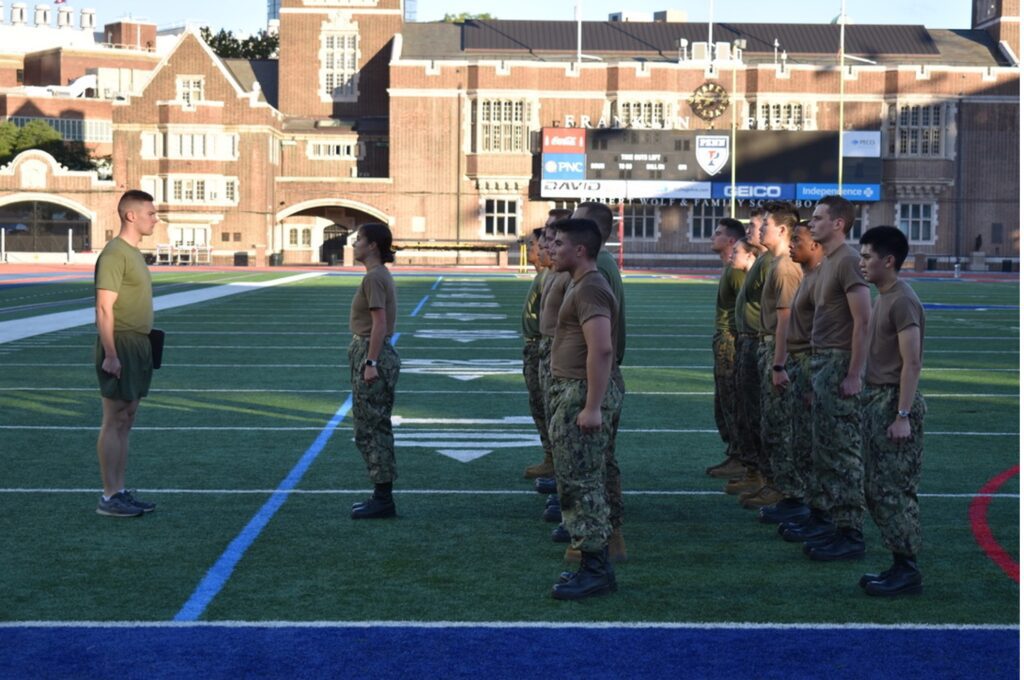 Kilo Company then returned to Franklin Field, where the remainder of the Battalion was waiting to receive the 4/C midshipmen for their integration with the rest of the Battalion. Pictured left is our Battalion Commanding Officer, MIDN 1/C Ian Conway, addressing the Kilo Company Commander, MIDN 1/C Mole, and the rest of Kilo company.
Thank you to the Kilo Company staff for their dedication to training the future of this unit. 4th Class orientation is an incredible responsibility that the Kilo Company Staff did not take lightly. Staff included Company Commander MIDN 1/C Kara Mole and Platoon Commanders MIDN 2/C William Tinney and MIDN 3/C Bryan Suh. Finally, Bravo Zulu to the 4th Class Midshipmen for successfully graduating Kilo Company! The Battalion is excited to welcome you into our unit family and help unlock your full leadership potential during your time at UPenn NROTC.
Original article written by Midshipman First Class Jorgensen of Temple University and Midshipman First Class Mole of the University of Pennsylvania.